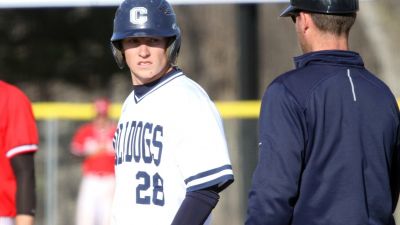 FREMONT, Neb. – The Concordia University baseball team is on the board with its first conference victory of the 2017 campaign. Up against the 2016 GPAC regular-season champion on Tuesday night, the Bulldogs salvaged a split by taking game 2 of a twin bill in Fremont, Neb. After Midland won the first game, 4-1, Concordia bounced back with a 12-0 victory in the night cap behind freshman lefty hurler Wade Council.
The game 2 win halted a five-game skid for third-year head coach Ryan Dupic's squad, which remains .500 overall at 12-12. The Bulldogs moved to 1-3 in league play.
"Today was a better day of baseball for us," Dupic said. "We had our chances in the first game but were unable to execute with runners in scoring position. We were able to get a couple of big innings in the second game to give us a lead. I was pleased with both of our starting pitchers today. Midland is a very good offensive team, and we had two freshmen that threw the ball very well. Jason Munsch was solid in game 1, and Wade Council was terrific in game 2."
Council was masterful. Having last pitched on March 18 when he shut out the University of Jamestown (N.D.), Council brought his best stuff to the table on Tuesday. He blanked the Warriors on four hits while striking out 10 batters. The native of Colorado Springs, Colo., really got rolling in the late innings when he retired eight-consecutive hitters.
Incredibly, Council has yet to surrender an earned run over his first 20 innings as a collegiate pitcher, meaning his ERA stands still at a spotless 0.00.
"Wade is such a versatile player for us," Dupic said. "He can play outfield, hit, close games on the mound and start on the mound. He had three pitches working today at all times and got his fastball to both sides of the plate. Our guys feel best when his pitching for us and it showed today."
Facing a possible 0-4 start to conference play, the Bulldogs had no reason to tense up after putting up six runs in the second inning of game 2. All of those runs came with two outs. Casey Berg ignited the rout with a two-run double. Christian Meza followed with an RBI double of his own and, two batters later, Kaleb Geiger rocked a three-run two-bagger.
Concordia tacked on with a run in the fourth and then five more in the sixth. The catalysts on Tuesday were the top-of-the-order hitters, Berg and Meza. Berg put together a 4-for-8 day (3-for-4, three runs, two RBIs in game 2) while Meza did the same. Meza knocked in three runs in the doubleheader.
Concordia struggled to break through with a clutch hit in game 1 while up against Midland's Torrey Escamilla, who fanned nine hitters over six innings of work. The Bulldogs got their lone run when Meza singled home Berg in the third. Concordia then stranded two runners apiece in the fourth and fifth innings and left nine on base for the game.
Munsch got tagged with the loss in game 1 despite striking out eight hitters in five innings. He surrendered four runs (all earned) on six hits and two walks. Brook Stuart and Tanner Wauhob combined to work a scoreless sixth.
The Warriors (20-8, 2-2 GPAC) got a 2-for-3 performance, including a home run, from designated hitter Chris Foster in their victory. Midland ended up with only 10 hits total on the evening.
If the weather holds up, the Bulldogs will be back on the road this weekend for two more GPAC doubleheaders. They are slated to travel to Yankton, S.D., on Saturday for a 1 p.m. CT twin bill at Mount Marty (9-13, 3-1 GPAC). Then on Sunday, a doubleheader is scheduled for 1 p.m. at Morningside (19-11, 4-2 GPAC).