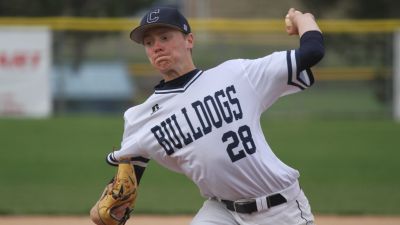 SEWARD, Neb. – He can hit. He can pitch. A standout as a table setter, Wade Council has proven too valuable to remove from the lineup, even when pitching. On Tuesday (March 20), Council pulled off a rare feat by sweeping GPAC/Hauff Mid-America Sports Player and Pitcher of the Week awards. He joins Nick Little as the second Bulldog to pick up a conference weekly honor in 2018.
Council enjoyed an impressive week as a two-way player. Offensively, he went 7-for-16 (.438) with five runs, two doubles, two home runs, six RBIs, three walks and two stolen bases while slugging .938. After a two-homer performance in the second of a three-game series at College of the Ozarks, Council blanked the Bobcats the next day with a three-hit shutout in a seven-inning contest. It marked the fifth shutout of Council's career.
The Colorado Springs native is off to a great start with the bat. He's hitting .362 with 19 runs scored, seven doubles, four home runs and 19 RBIs. In 72 career games, Council has hit .311 with 23 extra base hits. As a pitcher, Council owns a 4.37 ERA over 70 innings as a Bulldog.
Concordia (12-7) will return to action at 5 p.m. CT on Wednesday by hosting Kansas Wesleyan University. The Bulldogs will also be at home Saturday and Sunday for doubleheaders versus Mount Marty and Morningside.