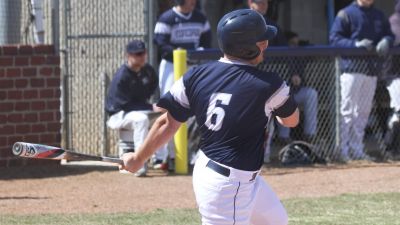 SIOUX CITY, Iowa – The Concordia University baseball team struck for 23 runs on 25 hits in the makeup of a postponed doubleheader played in Sioux City, Iowa, on Friday (April 20). The Bulldogs rode a suddenly explosive attack and the right arm of Neil Ryan to a 12-1 blowout of Briar Cliff in game one. The Chargers then won a slugfest, 13-11, in the nightcap.
Doubleheader sweeps have been elusive in conference play for fourth-year head coach Ryan Dupic's squad. With 10 games left in the regular season, Concordia (19-16, 7-9 GPAC) is still trying to ensure a spot in the eight-team GPAC tournament.
"Sometimes you feel like you're saying the same thing, but there is progress being made," Dupic said. "I don't know if we've had as good of at bats when we've gotten behind as much as we have when we're ahead over the last week-and-a-half or two weeks. That was not the case in the second game today. It was just back-and-forth and back-and-forth. That was really encouraging."
The Bulldogs scored in five of the seven innings in game one while allowing Ryan to cruise. The intermittent schedule played in role in Ryan having made only one prior start this season. He knocked off the rust by allowing just a single run on four hits and four walks over six innings.
Dupic will need such outings by starters beyond Nick Little and Cade Moring if the Bulldogs are to make a push down the stretch.
"Super proud of Neil," Dupic said. "The weather has probably hurt guys like him as much as anyone just because we haven't played a ton of games at one time. He's kept getting bumped back. He was terrific today. He did a really nice job. He's been chomping at the bit to pitch for a long time."
Concordia picked up four runs in its very first turn at bat in an inning that began with a Wade Council double. Two Charger errors also helped the cause. Additionally, Thomas Sautel, 8-for-9 in Tuesday's doubleheader versus Dordt, continued to sizzle. He blasted a two-run homer in the seventh as part of a three-hit game. Christian Meza also laced three hits in the opener.
The Bulldog bats were similarly good in game two when Johnny May went 2-for-4 with a double, home run and four RBIs. Council finished off a five-hit day by going 3-for-6 in the second contest. Inserted into the No. 3 slot in the lineup, Evan Bohman seems to be finding a groove. He struck for two home runs in the second contest. He also walked twice and scored three runs in game one. Kaleb Geiger became the fifth Bulldog to hit a home run on Friday when he muscled up with a pinch hit blast in the ninth inning of game two. Keaton Candor joined the fun with a big fly of his own.
Unfortunately, Concordia struggled to prevent runs in the capper. All four Bulldogs who pitched in the contest surrendered at least one run. Sawyer Olson paced Briar Cliff (18-19, 7-11 GPAC) with a 3-for-3 game that included a homer and four RBIs. The Chargers made life difficult on Concordia when they tallied four runs in the sixth to make for a five-run spread (11-6).
A weekend chalk full of baseball will continue with a four-game series against Doane (23-16, 12-4 GPAC). Saturday's action will take place in Crete before shifting to Plum Creek Park in Seward on Sunday. Both doubleheaders are slated to begin at 1 p.m. CT. On their way to a GPAC regular-season title last season, the Bulldogs swept a four-game set from the Tigers last April.