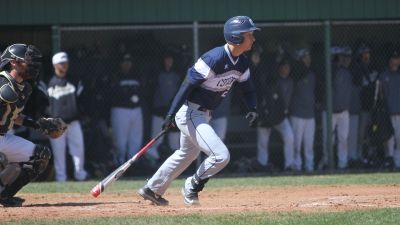 LINDSBORG, Kan. – A day after struggling to score in the midst of Saturday's chilly temperatures, the Concordia University baseball team responded with a combined 19 runs. The enhanced offensive production made winners out of starting pitchers Neil Ryan and Taylor Bickel as the Bulldogs swept a doubleheader from host Bethany College (Kan.) by scores of 13-2 and 6-3 on Sunday afternoon.
Second-year head coach Ryan Dupic's squad salvaged a split of the season-opening four-game series with the Swedes (3-5), a member of the Kansas Collegiate Athletic Conference.
"We definitely feel like today was a better example of who we are than yesterday," Dupic said. "Looking back, yesterday we faced a really good arm in game 1 and in game 2 got beat in 10 innings. It's not much to look at but I'm not sure we were as bad as maybe we felt. I thought we transitioned really well today. Our batting practice and our pregame was really good. We just had a much better mindset."
Making his first start of 2016, Ryan looked sharp while mowing down the Swedes through the first four innings of game 1. Ryan did not allow a hit until Weston Jacobs singled in an unearned run with two outs in the bottom of the fifth. A bout of wildness (four walks) and an error helped chase Ryan from the game before he could navigate the fifth. Relievers Nic Seaman and Schafer Thompson covered the final 2.1 innings in scoreless fashion.
The combined work of the pitching staff was plenty good enough in conjunction with an offense that piled up five runs in the third and four in the sixth to blow open game 1. Right fielder Taylor Bigandt went 3-for-4 with an RBI out of the No. 2 slot. Taylor Dudley and Ryan Fesmire surfaced with a run-scoring single apiece during the five-run third inning outburst. Then in the sixth, Logan Ryan drew a bases-loaded walk and Casey Berg singled in a pair of runs to make it a Bulldog runaway.
Dependable as a freshman in 2015, the southpaw Bickel also made his sophomore debut on the bump. He limited the damage to two runs over five innings by effectively scattering seven hits in game 2. Once again, the bullpen did a fine job as Dupic mixed and matched with the likes of Tanner Wauhob, Josh Prater, Todd Oberthien, Cole Thomas and Josue Melchor to eat up the final four innings.
At the plate, Concordia did the bulk of its game 2 damage in the fourth inning when it threw up five runs while taking advantage of three Bethany errors in the frame. Jacob Adams got things going with a double. Christian Meza and Ryan chipped in RBI singles and a Berg fielder's choice plated two runs, one via a throwing error.
A patient approach in the dish yielded a combined 21 walks for Bulldog hitters against a wild Bethany staff. Cleanup hitter Tyler Nelson worked five free passes on the day and Ryan drew four as part of a well-rounded team effort.
"I thought we had a lot better at bats. We drew a lot of walks," Dupic said. "We were very patient and got two good starts and that allowed us to use our bullpen guys in the right spots. They were very good. We had a couple hiccups defensively, but all-in-all it was pretty good."
Alex Alstott was relegated to pinch running duties on Sunday after being hit in the hand by a pitch on Saturday. Dupic is hopeful his first team all-conference center fielder can make a return to the lineup next week.
The Bulldogs are scheduled to venture back into the state of Kansas this coming week with doubleheaders at No. 20 Sterling College (6-0) on both Friday (1 p.m.) and Saturday (12 p.m.). The Warriors will provide a big early-season test a year removed from a 47-15 overall record and berth in the national tournament.