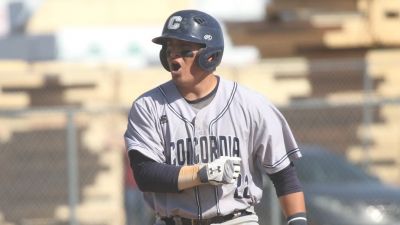 FREMONT, Neb. – Throughout an up-and-down 2018 season, the Concordia University baseball team never seemed to get all facets of the game working in synchronicity. Similar inconsistencies plagued the sixth-seeded Bulldogs at this weekend's GPAC tournament. Looking to rebound from Friday's 12-7 loss to Doane, Concordia instead saw its season end with a 9-3 loss to Mount Marty at Moller Field in Fremont, Neb., on Saturday (May 5).
Under fourth-year head coach Ryan Dupic, the bar has been raised to a point that makes this weekend more difficult to stomach. The Bulldogs ended the campaign at 25-22 overall one year after winning the GPAC regular-season title and advancing to the opening round of the national championships.
"We played fairly well for the first four innings. There was a good flow to the game on both sides," Dupic said. "There was a lightning delay and when we came back, we didn't play with the same level of defensive execution. I thought Cade Moring did an excellent job battling through our defensive mistakes."
The 2018 season finale will go down as a forgettable outing for Concordia. Lefty starting pitcher Cade Moring worked seven solid innings (three earned runs, 11 strikeouts) and became the first player in school history to record 100 strikeouts in a single season. There wasn't much Moring could have done to rescue his side. The defense behind him struggled again (five errors) and the offensive attack fizzled in key situations (13 left on base).
The Bulldogs actually struck first when Wade Council tripled to lead off the bottom of the third. Christian Meza followed with a sac fly to make it 1-0. The rest of the way, Lancer pitcher Blake Svoboda flummoxed Concordia hitters. He covered eight innings, allowing five hits and six walks to go with nine strikeouts. The Bulldogs made some late noise with an RBI single apiece from Meza and Thomas Sautel in the bottom of the ninth.
"We got some good production at the top of the order, but we will need to lengthen our lineup to put more pressure on teams in the years to come," Dupic said. "It was an unfortunate ending to our season. Our guys gave good effort. We just didn't execute well enough."
The game really got out of hand after Moring departed. The Lancers (28-20) turned a 5-1 lead into a 9-1 advantage with a four-run eighth. Mount Marty was led by Justin Miller's 3-for-6 performance at the plate. Devin Bell drove in three runs.
Picked to win the league after last season's successes, Concordia failed to find a groove this season. It never won more than three GPAC games in a row while the offense ran hot and cold and a conference high 89 errors were made. The high point of the season came on April 22 when the Bulldogs handed Doane a pair of losses in walk-off fashion. Those defeats helped derail Doane's chances of winning a conference title.
In terms of career accolades and statistical measures, Kaleb Geiger and Moring were the most high profile seniors on the roster. Geiger leaves as the school's career record holder for doubles, RBIs and putouts. Moring's 109 strikeouts this season shattered a program record. Together they helped the Bulldogs produce a combined 113 wins over the past four seasons. The 34 victories attained by the 2017 squad are a school standard.
In a season full of weather-related challenges, it seemed only fitting that Saturday's game also included a lightning day. Play was halted for nearly one hour and 15 minutes with the game in the top of the fifth.