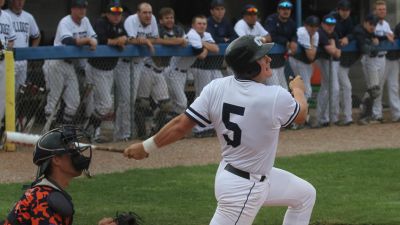 TUCSON, Ariz. – A walk-off single delivered by freshman Keaton Candor provided the day's biggest thrill as the Concordia University baseball team continued its road trip in Tucson, Ariz. Candor's heroics lifted the Bulldogs to a 6-5, 11-inning win over NCAA Division III Simpson College (Iowa). Wednesday (March 7) then ended with a thud – a 15-4 run-rule shortened loss at the hands of Valley City State University (N.D.).
Now 4-3 at the Tucson Invitational since beginning action in Arizona on March 3, fourth-year head coach Ryan Dupic has seen his players react in all types of games during a taxing stretch.
"That's what this trip is about. We're learning a lot," Dupic said. "It's not always fun when you get beat and you have to learn through that, but we're getting players opportunities to play and we're learning a lot about our team. We're seeing who can be consistent and who can pitch for us out of the bullpen, who's giving us good at bats and who can make plays defensively. I think we'll keep getting better."
Candor, a center fielder from Merrill, Iowa, just keeps sticking it. He collected two hits in the first game and then another three, including a double, in the second contest. The stage was set for Candor's game-winning hit when the Bulldogs tied the game in the bottom of the 11th. Candor then stepped up and singled up the middle, scoring Brandon Cue.
The 11th-inning rally to beat Simpson made a winner out of freshman reliever Nathan Buckallew. He went 4.1 strong innings, allowing just one run on four hits and two walks. Jared Schipper started the game and covered 5.2 innings while striking out eight. Wyatt Weller bridged the gap between Schipper and Buckallew with a scoreless inning.
Thomas Sautel went 3-for-5 with a homer and two runs scored versus Simpson. Second baseman Christian Meza continued his hot streak with a 3-for-5 effort out of the cleanup spot. Just behind him, Kaleb Geiger went 2-for-5 with an RBI.
Said Dupic, "I'm not sure we played great, but we found a way to win. Thomas Sautel had a nice game and Candor had the walk-off hit. Christian Meza had three hits again. Those guys stood out."
The second game got away from the Bulldogs despite an improved performance by lefty starting pitcher Jason Munsch. The highlights were three hits from Candor and stellar production out of the leadoff spot from Wade Council, who doubled twice, walked and was hit by a pitch.
Concordia and Presentation College (S.D.) will challenge each other in a doubleheader set to begin at 3 p.m. MT / 4 p.m. CT on Thursday. Just four more games remain on the road trip, which has included three victories over NCAA Division III opponents.