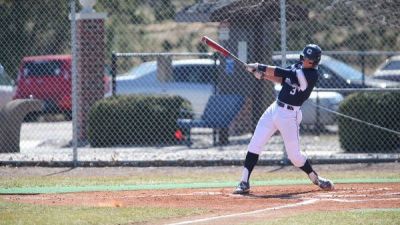 Cambier walk-off keys fourth-straight GPAC split
SEWARD, Neb. – For the fourth-straight doubleheader to begin the conference season, the Concordia University baseball team settled for a split. First baseman Zach Cambier's walk-off RBI single lifted the Bulldogs to a 5-4 game 1 victory before an ugly sixth inning of game 2 resulted in a 16-7 blowout loss to visiting Hastings (15-14, 3-5 GPAC) on Saturday afternoon.
The victory to begin the day gave first-year head coach Ryan Dupic's squad its 20th of the season, marking the third time the program has reached 20 or more wins in a season. Concordia is 20-10 overall and 4-4 in league play.
"It was a great first game, really well played by both teams," Dupic said. "I was very proud of the way that we played. We didn't end on a great note yesterday and I thought it was really nice the way we came out and competed in the first game today. We chipped away and scored here and there and made some big pitches at times. I thought Taylor Bickel was really good."
Concordia relinquished three different leads as part of game 1 before Cambier surfaced with the game winner in the bottom of the seventh. An inning earlier Cole Stuerke provided a 4-3 Bulldog advantage by singling in the go-ahead tally with two outs. Hastings then extended the game with Jake Steese's RBI base hit in the top of the seventh off reliever Mark Harris to knot the score at 4-4.
Harris wound up earning the win after Alex Alstott, who led off the seventh with a single, came around for the winning tally. Alstott also tripled twice on the day, allowing him to eclipse the former program single-season record of nine three-baggers by Zak Goodrich in 2011. Alstott currently leads all NAIA players with 11 triples.
Making his fifth start of the season, Concordia freshman left-hander Taylor Bickel held Hastings to three runs (all earned) on six hits and a walk in 5.1 innings.
Behind a solid outing from freshman lefty Cade Moring, the Bulldogs took a 2-0 lead into the top of the sixth. After Moring was lifted, four different relievers failed to record an out as part a nightmare 13-run frame for the Broncos. Hastings ended up with 13 hits in the game despite waiting until the fifth inning to record their first knock off of Moring.
Junior Taylor Bigandt provided the biggest highlight of the second contest when he crushed a pinch-hit grand slam to deep center off of Bronco reliever Nolan Whittlesey. Bigandt's team-leading third homer of the season was simply not enough to dig out of a 12-run hole.
Shortstop Casey Berg led the way for the Bulldog offensive by pounding out five hits on the day. In addition, Alstott went 3-for-7 out of the leadoff spot.
Berg, a sophomore from Manning, Iowa, has stabilized the shortstop position. He's 12-for-20 at the plate over his last six games.
"It's a big position for us. I was really proud of the way he played," Dupic said. "It's nice to get him going because he's a very dynamic player when he gets going right. He can make things happen on the bases and he got things going defensively. That confidence fed into his offensive game as well."
On the opposing side, first baseman Micah Lockerby doubled twice and drove in five runs as part of the Bronco onslaught in game 2. Lockerby and company took advantage of 10 walks and two hit batters issued by Concordia pitchers.
The Bulldogs break from conference play on Wednesday when they play a single nine-inning game at Grace University (10-13) in Omaha, Neb. First pitch is set for 4 p.m.