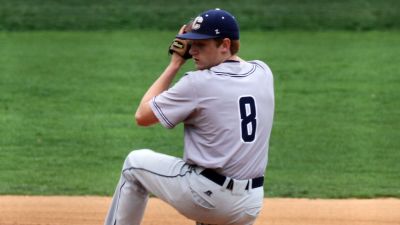 TUCSON, Ariz. – The work of relievers Tanner Wauhob and Cade Moring helped the Concordia University baseball team hang tight after an early deficit, but NCAA Division II Malone University (Ohio) held off the Bulldogs, 3-2, in a nine-inning game that took place in Tucson, Ariz., on Wednesday afternoon.
Third-year head coach Ryan Dupic's squad is now 4-2 at the Tucson Invitational and 5-5 overall this season.
"I thought we competed really well," said assistant coach Bryce Berg. "The guy on the mound for them was 84-87 (miles per hour) with a good breaking ball. He was a good pitcher. We competed really well and our bullpen was phenomenal. They came in and did exactly what they needed to do to keep us in the game. It was a tough loss for the guys, but we played a good ball club."
Concordia's first run came on a Christian Meza pinch hit RBI base knock. Thomas Sautel drove in another run with an RBI single. Then in the ninth, the Bulldogs appeared poised to tie it up, but Christian Montero's long drive to center was flagged down to end the game with a runner on second base. Concordia also missed an opportunity in the first when third baseman Casey Berg led off with double before being left stranded.
Denver, Colo., native Desmond Pineda struggled with his command early in his first career collegiate start. He settled in and went 4.2 innings before handing the ball to Wauhob, who worked 2.1 innings of scoreless ball. Moring retired the side in order in his one inning on the mound.
At the plate, Berg went 2-for-5 with a double. Kaleb Geiger was 2-for-4 with a double of his own.
The Bulldogs have four games remaining on their Tucson Invitational schedule. On Thursday, they will play one seven-inning game with both Waldorf University (Iowa) (9 a.m. MT / 10 a.m. CT) and Valley City State University (N.D.) (3 p.m. MT / 4 p.m. CT). Concordia will complete its run in Arizona with a doubleheader on Friday.