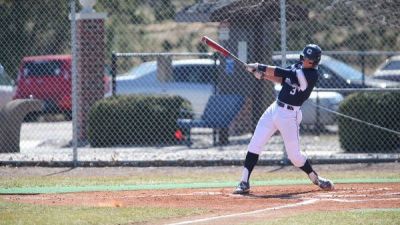 Bullpen keys fourth win of Arizona road trip
TUCSON, Ariz. – Strong work from the Bulldog bullpen and another solid offensive day allowed the Concordia University baseball team to win its fourth game in five tries during its current nine-game road trip in Tucson, Ariz. On Tuesday the Bulldogs topped Central Methodist University (Mo.), 7-5, in a single nine-inning contest.
First-year head coach Ryan Dupic's squad moved above .500 at 6-5 overall. The Eagles, a member of the Heart of America Athletic Conference, dropped to 9-6.
In a balanced lineup, second baseman Alex Cargin provided punch out of the nine hole. His two-run double in the top of the second put the Bulldogs up 2-0. Cargin (2-for-3), who added a sacrifice fly in the sixth, was one of three Bulldogs with two hits. The other two were left fielder Cole Stuerke (2-for-5, RBI) and catcher Ryan Fesmire (2-for-4, two runs).
After the Eagles put up two runs in the bottom of the fifth to take a 4-3 lead, Concordia responded with three runs in the top of the sixth to grab the advantage for good. The Bulldogs capitalized on an error to begin the inning and pushed runs across on Casey Berg's bases-loaded walk, Cargin's sac fly and Stuerke's RBI single.
The Bulldogs picked up an insurance run in the seventh when center fielder Alex Alstott tripled with two outs and then scored on a wild pitch. Alstott scored three times and stole a pair of bases.
Dupic used six different arms out of the bullpen to navigate the final five innings. Right-hander Heath Benker pitched a scoreless eighth inning and righty Edwin Izumigawa worked a 1-2-3 ninth to earn his first save. Concordia's six relievers, including winning pitcher Devin Bettmann, allowed just a single run.
In his first career collegiate start, Concordia lefty Cade Moring got the ball on the hill. Pitching in his home state, the Eagar native retired the first seven hitters he faced before running into trouble in the bottom of the third. Joba Ferrell got the Eagles on the board with a two-run blast with two outs in the third. Moring ended up working four innings, allowing four earned runs on three hits and two walks.
The red-hot Bulldog offense totaled nine hits against four Central Methodist hurlers. Over its first five games in Arizona, Concordia has piled up a combined 58 runs. It struck for 18 and 22 runs, respectively, in wins over Grace College and University of Jamestown.
Dupic also complimented the left side of the infield where Casey Berg (shortstop) and Kaleb Geiger (third base) lent a helping hand to the Concordia pitching staff.
The Bulldogs have another off day on Wednesday before returning to action in Tucson on Thursday when they take on Presentation College (S.D.) in a doubleheader. First pitch is set for 9 a.m. MST / 11 a.m. CDT. Concordia will close its nine-game Arizona trip with another twin bill on Friday.