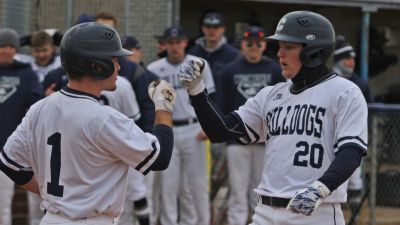 SEWARD, Neb. – The Concordia University baseball team got solid starting pitching performances from Nick Little and Jason Munsch but familiar issues plagued them on Wednesday night (April 4) in a pair of losses to Hastings. The visiting Broncos left Plum Creek Park with victories by scores of 4-2 and 4-3 on a chilly spring evening in Seward.
The losses mean fourth-year head coach Ryan Dupic's squad surrendered three of four in the regular-season series with Hastings. Concordia slipped to 15-12 overall and to 3-5 in league play.
"I thought Nick Little and Jason Munsch both threw the ball really well," Dupic said. "It's easy to point to us not scoring a lot of runs. It's obvious that we're trying to improve in that facet here and get out of a little bit of a rut, but we're still kicking it around too much defensively. We're giving up too many runs with free passes and not making plays defensively. We just have to do a better job at some point."
The Bulldogs have not been used to losing when Little takes the ball. Wade Council's RBI single in the second inning of game one provided Little a 1-0 lead that eventually went by the wayside in the fifth when the Broncos took advantage of two walks and then a critical two-out error. Little wound up being tagged with a loss despite giving up only two earned runs while he recorded his fifth complete game. Through 55 innings, Little owns a 1.31 ERA this season.
In both contests, Hastings (11-16, 3-3 GPAC) took late leads that it held onto. The Broncos responded to Johnny May's solo blast in the sixth inning of game one with a two-run seventh. In game two, Hastings relinquished a 3-0 lead only to answer back with the go-ahead in the top of the sixth on a Ty O'Brien sacrifice fly.
On a day when the bats never did bust loose, Council put together a nice doubleheader. He reached base safely in six of eight plate appearances while totaling three hits, including a double. Second baseman Christian Meza notched one hit in both games with one being an RBI double. Christian Clear got his first career varsity plate appearances and singled and walked.
Munsch covered five-plus innings in game two and took the loss. He gave up four runs (three earned) on four hits and three walks. On the opposite side, Hastings game one starter Zach Fritton was let off the hook for his six walks. He surrendered only one run over five frames. At the plate, Bronco Zack Petersen collected three hits out of the leadoff spot.
Concordia and many northern teams are still trying to find a groove that the cold weather has made difficult. Said Dupic, "It makes it challenging in that it's hard to find a routine. Everybody's doing that. Hastings has played less games than we have within conference. We haven't played well enough recently to earn wins. We get a chance to go play tomorrow. I hope we can do that tomorrow."
As part of a change in the schedule, the Bulldogs will now take on Northwestern (12-13, 5-3 GPAC) at 3 p.m. on Thursday (April 5). The venue will be Veterans Memorial Field in Blair, Neb. The Red Raiders will be the home team.