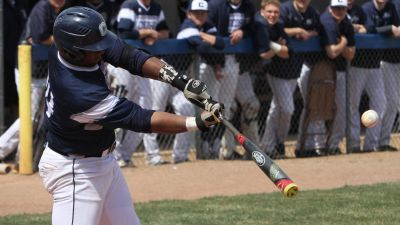 SEWARD, Neb. – The offensively potent Concordia University baseball team is bringing its act to Plum Creek Park on Friday. Idle since finishing their road trip at the Tucson Invitational on March 10, the Bulldogs have a busy weekend ahead with four games spread over three days.
This week's slate:
Friday, March 17 vs. Nebraska Wesleyan, 1 p.m. (Plum Creek Park)
Friday, March 17 vs. University of Jamestown, 4 p.m. (Plum Creek Park)
Saturday, March 18 vs. Jamestown, 4 p.m. (Woods Park in Lincoln)
Sunday, March 19 at Nebraska Wesleyan, 4 p.m. (Woods Park in Lincoln)
Friday's games will be streamed live on the Concordia Sports Network.
Third-year head coach Ryan Dupic's squad is coming off of a 7-3 road trip during which it defeated then 16th-ranked Jamestown as part of a doubleheader split on March 5. Over the 10-game run in Tucson, Concordia broke two program single-game records. The Bulldogs busted loose for a new program standard of 31 runs in a 31-8 win over the University of Winnipeg and then smashed the home run record by hitting six long balls in the 21-6 victory over Waldorf University (Iowa).
Eight different players have hit at least one home run for Concordia. Jason Galeano and Kaleb Geiger have three home runs apiece and three others have exactly two home runs: Jake Adams, Casey Berg and Jake Taylor. Berg accomplished a rare feat by hitting two home runs in a single inning versus Waldorf. The third baseman from Manning, Iowa, eclipsed 100 career hits as a Bulldog last week. He's 11-for-20 over the past five games.
Adams has gotten off to a torrid start. Among Bulldog regulars, the 2016 GPAC Gold Glove award winner is the team's leading hitter with a .440 batting average. He's slugging .750 and has six extra base hits (three doubles, two homers, one triple) in 13 games played. Berg is hitting .380 and outfielder Christian Montero is hitting .352. He's already roped nine doubles in 54 at bats.
Concordia scored exactly 100 runs while in Arizona. Collectively, the Bulldogs are batting .322 with 15 home runs, a .436 on-base percentage and a .523 slugging percentage. Nationally, Concordia ranks 13th in runs per game (8.6), 14th in slugging percentage, 25th in hits per game (10.1) and 34th in batting average.
On the mound, Dupic has turned to freshman right-hander Nick Little and senior left-hander Josh Prater as his Nos. 1 and 2 starters. Little has made three starts and is 2-0 with a 4.74 ERA over 19 innings. Meanwhile, Prater is 1-1 with a 2.55 ERA in 17.2 innings. Wade Council has gotten the most work out of the bullpen and has not allowed an earned run in six innings pitched. As a staff, Concordia owns a 4.59 ERA.
Now its first season as a member of the Iowa Intercollegiate Athletic Conference (NCAA Division III), Nebraska Wesleyan is 7-5 this season. In their final year in the GPAC, the Prairie Wolves placed last with a 3-17 conference mark. Nebraska Wesleyan pitchers sport a 2.68 ERA. Its leading hitter is Kyle Hunter (15-for-35 with four RBIs). Currently a member of the North Star Athletic Association, the Jimmies (14-7) have fallen outside the top 25 after three-straight losses. Landon Uetz is hitting .367 with four home runs and 17 RBIs as a standout in the heart of the Jamestown lineup.
The Bulldogs will also play a doubleheader at Friends University on March 21 before beginning conference play March 24-25 with home twin bills versus Northwestern and Dordt.