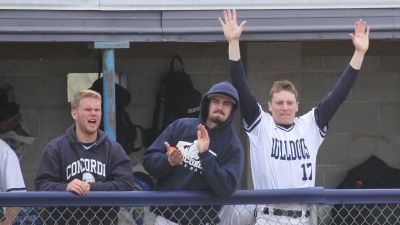 SEWARD, Neb. – A second GPAC regular-season title is an extreme longshot at this point for the Concordia University baseball team, but the postseason championship looks to be a complete free-for-all in a league full of parity. The Bulldogs just need to ensure that they are amongst the field of eight teams at the GPAC tournament. Their chances improved significantly by taking three of four from Doane in a weekend series. Six games make up the final week of the regular season.
This week's schedule
Tuesday, April 24 vs. Midland, 5 p.m.
Saturday, April 28 vs. Dakota Wesleyan, 1 p.m.
Sunday, April 29 vs. Dakota Wesleyan, 1 p.m.
Fifth-year head coach Ryan Dupic is hoping his team is peaking at the right time. The offense seems to have come alive once again. Concordia averaged 7.8 runs per game last week while going 5-3 against the likes of Dordt, Briar Cliff and Doane. Christian Meza (15-for-29) and Thomas Sautel (17-for-34) were particularly hot during that stretch. Sautel put together an 8-for-9 doubleheader versus Dordt and produced a walk-off single to beat Doane. Meanwhile, Meza enjoyed a 4-for-4 performance in the 10-7 win at Doane on April 21.
A big advantage for Concordia over its opponents in the power department continued last week. The Bulldogs muscled up for six home runs the twin bill at Briar Cliff. Evan Bohman (twice), Keaton Candor, Kaleb Geiger, Johnny May and Sautel all went deep in Sioux City as part of a 23-run outburst on April 20. The Bulldogs have out-homered their opponents, 24-9, this season. Surprisingly, ace pitcher Nick Little allowed two home runs (both to Doane's Eduardo Yanez) on Sunday. Little had previously given up only one home run this season.
Hard contact has been rare against Little, who is now 8-2 with a 2.08 ERA over his 10 starts. In his latest outing, the native of Lithia, Fla., allowed just one earned runs while striking out eight over nine innings. Little now owns or shares program single-season records for innings pitches (78), complete games (8) and wins (8). He continues to lead the GPAC in ERA for a staff still seeking greater consistency across the board from its starters. In another positive development, Neil Ryan limited Briar Cliff to one run over six innings in a win last week.
Saturday will be senior day for the program, which will honor the likes of Geiger, Cade Moring and Ryan, among others. The seniors have collaborated on the winningest four-year stretch in the history of the program. They helped the 2017 team to a GPAC regular-season title and a berth to the NAIA national tournament. Geiger is the program's all-time leader in doubles (44) and RBIs (146). His career slash line is .309/.411/.513. Meanwhile, Cade Moring (87 K's) needs eight more strikeouts to set a new program single-season standard.
Midland (22-19, 10-10 GPAC) is the defending GPAC tournament champion. The Warriors dropped three out of four against Briar Cliff in a weekend series. Midland's best individual asset is ace pitcher Torrey Escamilla, who is 5-2 with a 2.34 ERA over 69.1 innings. Dakota Wesleyan (10-21, 6-12 GPAC) has struggled offensively, hitting .238 while averaging 4.5 runs per game. The Tigers have lost four in a row, though three of those decisions came by two runs or less.
The GPAC tournament will play out May 3-5 with the championship on May 7. The top two seeds will earn the right to host four-team pods. Concordia has never won the GPAC postseason tournament.
Home varsity games can be streamed live via the Concordia Sports Network.