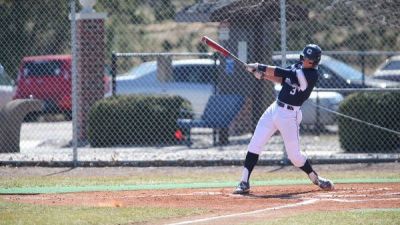 Bulldogs run win streak to eight with home-opening sweep
SEWARD, Neb. – The GPAC leader in both runs scored per game and earned run average entering the weekend, the Concordia University baseball team opened the 2015 home schedule by twice drubbing Dakota State University on Saturday afternoon. A layoff of seven days without a game failed to cool off the Bulldogs, who extended their winning streak to eight. On Saturday Concordia won by scores of 9-1 and 12-2.
The picture-perfect March day saw first-year head coach Ryan Dupic's squad author victories for the ninth and 10th times in 11 outings to improve to 12-5 overall. The Bulldogs packed the sunny weather along with their swagger from an impressive 8-1 road trip in Arizona (March 7-13).
"It was a great day to play the game and I thought the guys came out very excited, ready to go," Dupic said. "Once again we had some really good at bats offensively. That put us in position to be very aggressive on the mound and defensively. Jaydee Jurgensen pitched really, really well the first game. It's a good feeling for our club right now."
Concordia racked up a combined 20 hits and got tremendous work again from top-of-the-rotation starters in lefty Jurgensen (4-0) and freshman righty Neil Ryan (3-0) to keep the winning vibes flowing. Jurgensen punched out 12 Trojan hitters and surrendered just one run on two hits and a walk as part of his seven-inning complete game. In game 2, Ryan worked around five walks and three hits in limiting Dakota State to a single run (earned) in his six frames.
Jurgensen and Ryan, 7-0 with a 1.84 ERA in 53.2 innings combined this season, are a major reason why Concordia ranks atop the conference in ERA.
"Jaydee's got such good breaking stuff," Dupic said. "He's really spinning the ball well. He's been able to keep guys off balance. His ability to go to a secondary pitch almost any time has been really key for him.
"With Neil it's been interesting. His last couple (outings) he's just really competed and battled. He hasn't had his best stuff, but I've been really pleased to see him as a freshman going out and making pitches and continuing to compete."
Scheduled to play nine innings in game 2, Concordia ended things in seven by thumping Dakota State (3-15) in a 10-run rule affair. Out of the cleanup spot, senior first baseman Zach Cambier stung the ball. He doubled and tripled in runs during his 3-for-4 performance in game 2. Cambier was one of 10 different Bulldogs to rap out at least one hit on Saturday.
"It's awesome," Cambier said. "It's a team effort. Everybody's really getting into it. There's no real weak spot. One through nine in the order we're really putting the bat to the ball. We're playing good defense and our pitching has been unbelievable. Coach Dupic and the rest of the coaching staff are doing a really good job of helping us believe."
Concordia set the tone in game 1 by putting up two runs in the second, three in the third and three more in the fourth. The fun began with second baseman Alex Cargin's two-run double in the second. Right fielder Daniel Wilkerson followed it up with a three-run double in the third before third baseman Kaleb Geiger struck for a two-run single in the fourth.
The Bulldogs ran away with game 2 by throwing three runs on the board in the first followed by a six pot in the second. Concordia took advantage of three Trojan errors in the first and then got a two-run double apiece from Taylor Bigandt and Wilkerson as part of the monster second inning.
Cargin went 3-for-6 on the day out of the No. 9 spot in the lineup while Geiger, 2-for-4 in both contests, went 4-for-8, scored five times and drove in two runs from the No. 3 slot. Geiger is hitting .400 through 16 games.
Concordia will again host Dakota State on Sunday. First pitch is slated for 1 p.m. from Plum Creek Park. A live webcast will be provided by the Concordia Sports Network.