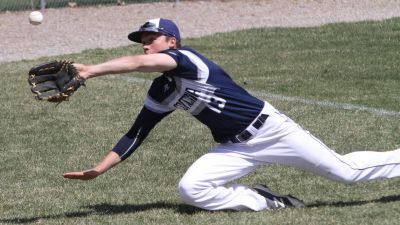 SIOUX CITY, Iowa – Following a challenging weekend road trip, the Concordia University baseball team remains in the cluster gathered at the top of the GPAC standings. In Sunday's battle between two of the GPAC's most potent offenses, the Bulldogs won the first game, 8-4, prior to suffering a 12-2 setback in game 2 as part of the doubleheader at Morningside.
With eight conference games remaining, second-year head coach Ryan Dupic's squad sits in a five-way tie for first (with Morningside, among others) in the muddled GPAC title race. Concordia is now 22-19 overall and 8-4 in conference play in the aftermath of a 2-2 weekend road trip that included a split at Northwestern on Saturday.
"I was really proud of the way our guys played that first game," Dupic said. "Morningside's a very good team, one of the more talented teams we've faced this year. Offensively we had some terrific at bats. It's great when you get that kind of production up and down the lineup. It's not just two or three guys. It was a big day for Jake Adams.
"You'd always like to win both, but you can't complain too much about getting splits on the road against two really solid baseball teams."
The first team in program history to rattle off more than 300 runs in a single season, the Bulldogs piled up 15 hits in the game 1 victory at Lewis & Clark Park. Adams, a junior left fielder from Mason City, Iowa, drilled his first career homer as a Bulldog and went 3-for-3 with three runs driven in. Piggybacking off his fourth inning home run, Adams came through with a two-run single in the seventh that pushed the cushion to four runs.
Adams was one of five Bulldogs with two or more hits in the opener. He was joined by Kaleb Geiger (3-for-4), Casey Berg (2-for-3), Christian Montero (2-for-3) and Christian Meza (2-for-4). During the three-run third, Geiger tripled in a run and Montero and Berg both plated runs with singles.
Dupic made liberal use of the bullpen on Sunday. Playing in his hometown, freshman right-handed reliever Tanner Wauhob got three big outs in the fourth inning of game 1 after starter Ben Kruse allowed the first three hitters of the frame to reach base. Wauhob stranded inherited runners at second and third by inducing a pop out and then two-straight strikeouts. He also worked a scoreless fifth inning before giving way to closer Josue Melchor, who picked up a two-inning save.
The Bulldogs carried that momentum into game 2 when right fielder Alex Alstott led off the contest with his fifth home run of the season and third of the weekend. Concordia added a second run in the first on Berg's RBI single. But Morningside (32-11, 8-4 GPAC) countered with two runs in the second, three in the fourth and seven in the fifth to blow it open and win by the 10-run rule. Mustang center fielder Jacob Lamoreux pounded out five hits in the twin bill.
Five different Bulldogs took the mound during the second game. Taylor Bickel went the first 3.2 innings while allowing four runs (all earned) on eight hits. He was tagged with the loss. Neil Ryan worked a scoreless sixth inning as the fourth hurler out of the bullpen.
High-scoring affairs have been the norm in the wacky GPAC this season. All 11 teams are averaging more than 5.5 runs per game. Entering the day, Concordia ranked third in that category with an average of 7.8 runs per game. Morningside scores more than eight runs per game. League lineups have gotten tougher, says Dupic.
On Tuesday the Bulldogs will get another shot at No. 18 York College (34-11). First pitch of the single nine-inning game is slated for 5:30 p.m. from Levitt Stadium in York. The Panthers, who defeated Concordia, 13-1 on April 5, sit atop the strong Kansas Collegiate Athletic Conference. GPAC play will resume next weekend with doubleheaders versus Midland (April 23) and at Doane (April 24). The Bulldogs also have Hastings (April 28) and Nebraska Wesleyan (April 29) remaining on the conference slate as they chase the program's first-ever GPAC title.