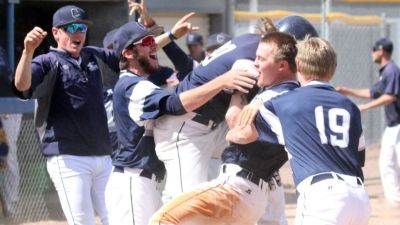 SEWARD, Neb. – The race for the GPAC baseball regular-season championship remains cloudy. The Bulldogs have kept themselves in the discussion and, on Sunday, bounced back with a doubleheader sweep to close out a four-game weekend series with Briar Cliff. Concordia held off the Chargers, winning by scores of 3-2 and 5-3 in Seward.
Third-year head coach Ryan Dupic's squad moved to 25-18 overall and to 14-8 in conference play (second place). Four teams are within two games of each other at the head of the pack.
The Bulldogs especially needed Sunday's positive results after falling twice to Briar Cliff the previous day. After the proceedings on Saturday, Concordia held a lengthy team gathering in left field.
"We obviously had a rough day yesterday," said sophomore second baseman Christian Meza. "We all got together and wanted to talk it out. We pretty much told each other that we have to love each other and stick through the hard times. That's pretty much it."
Meza drove in three of the team's eight runs on the day while holding down the No. 3 spot in the lineup for the first time this season. His most critical at bat came in the bottom of the seventh of Sunday's game 1. Meza lifted a shallow drive to right that gave Logan Ryan a chance to tag up from third base. The throw from Ray Rude beat Ryan to the plate by a wide margin, but catcher Brady Harpenau had the ball jarred loose, allowing for a walk-off Concordia victory.
It was a solid weekend for Bulldog hurlers, who held the Chargers (16-30, 9-15 GPAC) to a total of 11 runs over the four-game set. Starters Wade Council and Nick Little went a combined 10.1 innings, allowing three runs on 10 hits and five walks. Little picked up the win in game 2. Working in relief, Desmond Pineda earned the victory in game 1 and then a save in the capper.
At the plate, Meza and company did just enough. Christian Montero went 3-for-3 with two doubles, a run scored and an RBI in game 1. In the second contest, the Bulldogs found a way to manufacture a pair of sixth inning runs on just a single bunt hit. There were also walks drawn by Wade Council, Jake Adams and Johnny May that went along with Tyler Nelson's perfectly placed bunt. On a day when the wind was blowing out to center, only Jason Galeano (3-for-7 on the day) took advantage. He pounded his sixth homer of the season while leading off the bottom of the second in game 2.
Montero is now the school record holder for most doubles in a single season with 18. Teammate Kaleb Geiger is not far behind with 16. The previous record of 17 had been held by Zak Goodrich (2010).
Briar Cliff managed 13 hits for the doubleheader. Out of the leadoff spot, Ryan Welsh went 3-for-8 with a pair of runs scored. Currently in a tie for eighth place, the Chargers are in danger of missing the eight-team GPAC tournament (May 4-6, 9).
The Bulldogs will be back in action on Tuesday when they host Hastings (24-18, 13-9 GPAC) in a makeup doubleheader. First pitch is set for 5 p.m. CT from Plum Creek Park. The two sides split a twin bill in Hastings on April 13.
The final home doubleheader of 2017 carries significant meaning for two teams in the conference title hunt.
"It's definitely exciting," Meza said. "A lot of fans are starting to come out and support us. Keep on coming. We need the support. We're taking it one game at a time. We'll see what happens at the end."