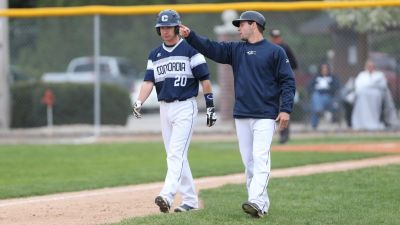 TUCSON, Ariz. – A day after scoring 18 runs in a win over Missouri Valley College, the Concordia University baseball team plated 19 runs in a shutout win over the University of Winnipeg on Tuesday evening. Starting pitcher Casey Hall fired four scoreless frames while getting plenty of support from an offense that piled up 17 hits.
Third-year head coach Ryan Dupic's squad moved to 8-10 overall and evened up at 3-3 on the current Arizona road trip.
"They haven't been winning a lot but they've been swinging the bats well," Dupic said of Winnipeg. "That's what I'm happiest about. We really haven't pitched well or defended well down here, but we threw up a shutout today."
Christian Montero hit a long homer and the Wesmen failed to retire second baseman Alex Cargin all day. Included in Cargin's evening was a triple. Meanwhile, outfielders Jacob Adams (three hits, triple) and Taylor Dudley (two hits, double) stung the ball and Christian Meza also added a trio of hits with two going for extra bases.
"It's nice to (put up a lot of runs) on back-to-back days," Dupic said. "The next couple days you should start to see teams spinning their top guys. We've really shown an ability to have good at bats and have good at bats on the backside rotation guys. Now we're wanting to see us do that against the top-end guys at the end of this trip."
Drew Woods did a little bit of everything. He caught Hall, recorded three hits and then tossed a scoreless inning in relief. Hall followed two other relievers. Schafer Thompson and Todd Oberthien and Woods ate up the final three innings while not allowing a single Winnipeg hit. Hall surrendered only two hits over his four innings.
Concordia has now scored 15 or more runs in five of its past nine games. The Bulldogs are averaging 7.8 runs per game through their first 18 contests of 2016. They did plenty of damage on Tuesday despite the absence of outfielder Taylor Bigandt, who is out with a broken hand he suffered in Tucson.
Under Dupic, the Bulldogs are 11-4 in games played in the state of Arizona. Concordia went 8-1 in last season's nine-game stay in Tucson.
After four-straight days of action in Tucson, the Bulldogs will enjoy an off day on Wednesday. They will return to Kino Sports Complex on Thursday for a pair of seven-inning games. Game times are set for 12:30 p.m. MT / 1:30 p.m. CT versus Olivet Nazarene University (Ill.) and 3:30 p.m. MT / 4:30 p.m. CT versus Waldorf College (Iowa). Friday will mark the final day of action in Arizona.