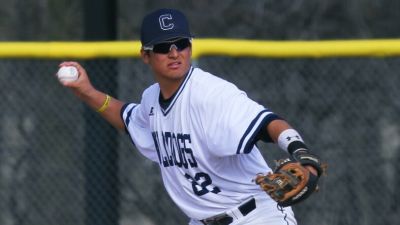 SIOUX CITY, Iowa – The Bulldogs keep swingin' in it and the young guns keep flingin' it. On Sunday, the Concordia University baseball team swept away GPAC preseason favorite Morningside, taking victories by scores of 1-0 and 13-8 at Lewis & Clark Park in Sioux City, Iowa. In doing so, the Bulldogs completed a perfect 4-0 weekend road trip within the conference.
Third-year head coach Ryan Dupic's squad will ride a five-game win streak into next week's action. Concordia now stands at 16-12 overall and at 5-3 in the GPAC.
"It's great to be able to do this at Morningside," said assistant coach Bryce Berg. "It's definitely a new vibe in the dugout. We feel like we can put ourselves in a position to compete at the top of the conference. Picking up wins against Midland and Morningside is big. It's a good sign moving forward."
Game 1 starter Jason Munsch completely stymied a Morningside offense that entered the day averaging more than six runs per game. The only hit he allowed all day in a seven-inning complete game was a double that led off the fourth. The freshman lefty from Campbell, Calif., worked around five free passes and struck out six. The game's only run came in the top of the first when Christian Montero's fielder's choice chased home Kaleb Geiger.
Musnch lowered his ERA to 3.30 with the first shutout of his collegiate career.
"The moment never got too big for him," Berg said. "He pitched out of multiple jams. He was really effective early. He did a nice job of attacking hitters. He's been really good. He continues to compete and make big pitches when he needs to."
For the second-straight twin bill, the Bulldogs never trailed. They looked like they were going to cruise in game 2 when they struck for nine runs in the third inning, which included seven hits and three Mustang errors. RBI hits in the frame were produced by Jason Galeano (single), Geiger (double), Tyler Nelson (two-run single), Ryan Fesmire and Christian Meza (two-run single). However, Morningside chipped away during the contest's middle innings.
Wade Council's streak of consecutive innings without allowing an earned run to begin his career ended at 23. After three scoreless frames in game 2, Council ran into trouble in the fourth when Morningside plated four runs. Council (4-0) still managed to battle through 5.2 innings to pick up the win. He was coming off a shutout performance five days earlier at Midland.
Meza went 3-for-6 and drove in four runs in a starring role in game 2. Galeano went 5-for-10 with a run and an RBI on the day. Galeano and Meza were two of four Bulldogs with multiple hits in a 14-hit effort in the capper. The others were Nelson (2-for-3, two RBIs) and Logan Ryan (2-for-4, three runs). Concordia notched eight hits in game 1, but stranded 11 men on base.
As the only reliever used by Dupic on Sunday, freshman right-hander Desmond Pineda got the job done. He navigated 3.1 scoreless innings, allowing just two hits while striking out two. He picked up a save.
Concordia's recent run of success has included a 12-0 victory at Midland and then doubleheader sweeps of Mount Marty and Morningside. During the win streak, the Bulldogs have averaged 8.8 runs per game and have recorded two shutouts.
The Mustangs (19-15, 4-6 GPAC) went 0-for-the-weekend having also been swept on Saturday in a home doubleheader with Midland. Morningside lost Sunday's game 2 despite collecting 14 hits, three of which came from leadoff hitter Jacob Lamoreux.
Concordia will dip outside of the GPAC on Tuesday with a short trek to York College (20-16) for a single nine-inning game. First pitch is set for 5:30 p.m. CT. Concordia will return to GPAC play next weekend with a four-game series against Doane (15-14, 6-2 GPAC).