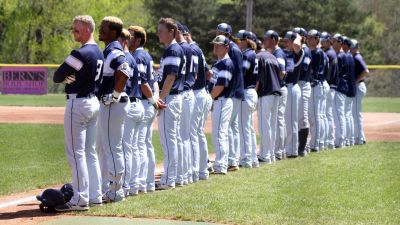 SEWARD, Neb. – There were anxious moments for the second-straight day of GPAC Baseball Tournament's Concordia Bracket. Once again, Desmond Pineda and the Bulldog bullpen delivered in the clutch, paving the way for a 3-2 win over Hastings in Friday afternoon action at Plum Creek Park. Concordia overcame a strong pitching performance by Bronco starter Will Frei.
Now 2-0 in the postseason, third-year head coach Ryan Dupic's squad has moved to 32-19 overall. The Bulldogs are one win away from hosting the GPAC championship game on Tuesday night.
"The way this tournament is set up, going 2-0 is a very big advantage," Dupic said. "We just made a commitment that we were going to do whatever it takes to go 2-0. We knew what we were getting into today. Jason Munsch was great. I would have loved to have seen him keep going, but we wanted to limit his pitch count a little bit. There are some guys we might not be able to use again, but we're certainly in the driver's seat."
Pineda has become a master at wiggling his way out of jams. He induced two pop ups to end the game and escape a bases loaded ninth-inning mess in Thursday's 6-5 win over Briar Cliff. After a two-run homer by Luke Christensen got the Broncos within a run in the bottom of the seventh, Concordia found itself in more trouble in that frame when the bases. Pineda put out the fire and proceeded to throw 2.2 scoreless innings to earn his second save in as many days.
The trio of Munsch, Jake Fosgett and Pineda was able to match Frei's performance. Munsch struck out four Broncos in his three shutout frames. Fosgett went 3.1 innings, using a sharp breaking ball to fan six hitters. Pineda added three K's, bringing the staff total to 13 on the day.
"I just come out and compete," said Pineda, who now has five saves on the year. "I don't care who's in the box. I'm just going to come in and do what I have to do. I've been in these situations all year – one-run lead or one run down. It's just what I've been doing all season. That's when I like to work."
Unlike Thursday, the Bulldogs never did trail on Friday. They broke loose with the game's first run in the third inning when Casey Berg singled and then scored on Christian Montero's RBI base hit. The lead swelled to 3-0 in the seventh inning thanks to an RBI single by Casey Berg and a sacrifice fly by Christian Meza.
The 'pen has been arguably the primary factor in Concordia's postseason success to this point. Relievers have thrown 13 of 18 innings at the GPAC tournament. Tanner Wauhob navigated 6.1 innings to help the Bulldogs survive an upset scare from the tournament's No. 8 seed. Pineda finishing games has been a constant this week for Concordia.
"Des is just a really good competitor," Dupic said. "He really likes that moment. We've seen him rise to the occasion. I think it's just something he enjoys. Jake Fosgett did such a fantastic job today to bridge the gap. That's nine innings of freshmen, which is pretty cool in a game like this."
Hastings outhit the Bulldogs, 8-6, but left 10 men on base. The Broncos spoiled a complete game effort from Frei, who allowed only two earned runs on six hits and four walks. Berg (2-for-5, run, RBI) was the lone Bulldog to record multiple hits.
For the second year in a row, Concordia finds itself needing one win in order to advance to the GPAC championship game. Saturday's action will get underway at 12 p.m. CT from Plum Creek Park. Mount Marty (22-27) is the last team standing in the way in the Concordia Bracket. In the Midland Bracket, Midland and Morningside will go head-to-head.
Concordia Bracket Schedule
*All games nine innings; no run rules
Thursday, May 4, 2017
Game #1 – No. 4 Hastings def. No. 5 Mount Marty, 3-0
Game #2 – No. 1 Concordia def. No. 8 Briar Cliff, 6-5

Friday, May 5, 2017
Game #3 – No. 1 Concordia def. No. 4 Hastings, 3-2
Game #4 – No. 5 Mount Marty def. No. 8 Briar Cliff, 6-5
Game #5 – No. 5 Mount Marty def. No. 4 Hastings, 8-2

Saturday, May 6, 2017
Game #6 – No. 1 Concordia vs. No. 5 Mount Marty, 12 p.m.
Game #7 – Game #6 winner/loser, 3 p.m. (if necessary)