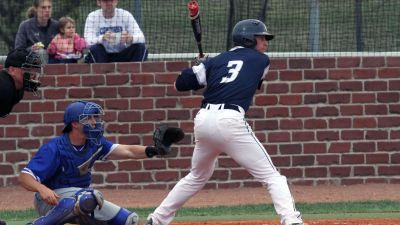 SEWARD, Neb. – The Concordia baseball team faced 16th-ranked York College for a non-conference tilt. The Panthers took a 13-1 victory Tuesday evening. Four different Bulldogs recorded a hit, including Logan Ryan who scored the lone run for Concordia.
Concordia falls to 16-17 overall while York improves to 27-9 on the season.
Head coach Ryan Dupic said, "I thought the first part of the game was pretty good. We did some good things against a very offensive York ball club. The fourth inning got away from us a little bit, we just had a couple defensive mistakes and you can't do that against a team like York."
The Bulldogs scored their single run in the seventh inning. Logan Ryan started off the frame with a triple ripped down the right field line. Jacob Adams grounded out to short stop on the sacrifice to score Ryan. With a pop up and a ground out, the inning and game concluded in favor of the Panthers.
Jared Schipper got the start for the Bulldogs. In the second inning, Tanner Wauhob took over pitching duties and struck out one batter. With one out in the fourth inning, Cole Thomas appeared on the mound before turning it over to Casey Hall. Hall recorded two strikeouts in two full innings pitched. Neil Ryan wrapped up the game for the pitching crew.
Defensively, first baseman Kaleb Geiger led the team with eight putouts. In the second inning, the 'Dogs turned a 6-4-3 double play to end the frame.
"We're excited to get a chance to go on the road and be together as a team…we're looking forward to it. It's going to be a fun year in the conference."
The Concordia baseball team will be back in action Saturday as it travels to Sioux Center, Iowa to face Dordt College. The double header will begin at 1 p.m. On Sunday, the 'Dogs will return home to take on Mount Marty College for a 1 p.m. twin bill.