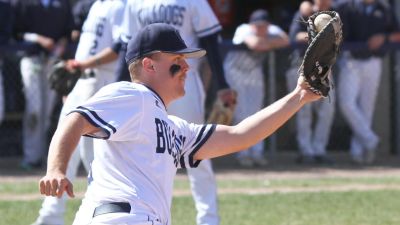 SEWARD, Neb. – The second game was at times unsightly – and a bit too close for comfort – but by day's end, the Concordia University baseball team celebrated its third doubleheader sweep of conference play. While closing the regular season, the Bulldogs defeated Dakota Wesleyan by scores of 5-1 and 10-9 at Plum Creek Park on Sunday (April 29).
Fifth-year head coach Ryan Dupic's squad has won three in a row in GPAC action for the first time this season. Concordia will enter the postseason at 25-20 overall and at 13-13 in the conference (tied for sixth place).
"The next thing at this point is we have to try to get ourselves healthy," Dupic said. "It wasn't necessarily pretty, especially the second game but we found a way to win and made some big pitches. I was pleased with us offensively. I thought we did some really nice things."
A methodical and error-plagued second game ended with a tense top of the ninth inning. The frame began with the Bulldogs owning a seemingly comfortable 10-6 lead. Four batters and a pitching change later, the Tigers had chopped their deficit down to a single run (10-9) with the help of a Branden Oropeza three-run double. Wyatt Weller proceeded to strike out the next three hitters while earning his first save of the season.
Strikeouts were a theme all weekend for Concordia pitchers. Starters Cade Moring and Nick Little combined for 24 K's in Saturday's twin bill versus Dakota Wesleyan (11-28, 7-19 GPAC). Bulldog hurlers teamed up for 23 more punch outs on Sunday. The bullpen racked up 13 strikeouts in Sunday's final game alone. Neil Ryan fanned six hitters in three innings of game two. He even took a walk in one of his two plate appearances.
At the plate, Concordia capitalized on several Tiger miscues. Christian Meza's two-run double was part of a three-run second inning that staked starter Jason Munsch to an early lead. After a bout of wildness, Munsch settled in to cover six innings, allowing one run on four hits and four walks. The Bulldogs won despite failing to put a man on base in any of the fourth, fifth or sixth innings.
The offensive attack exploded for 14 hits in game two. Evan Bohman (3-for-4), Meza (2-for-2), Luciano DePamphilis (2-for-5) and Thomas Sautel (2-for-5) each collected at least two hits. Bohman and DePamphilis drove in two runs apiece. The reigning GPAC player of the week, Sautel extended his hitting streak to eight.
It's tournament time for the Bulldogs, who reached the GPAC postseason championship game last season as the No. 1 seed. Concordia plays the role of the underdog heading into next week's tournament as the No. 6 seed. The Bulldogs will open it up by playing third-seeded Doane (26-23, 15-11 GPAC) at 3 p.m. CT on Thursday, May 3. The game will be played in Fremont, Neb., as part of the Midland Bracket.
"It's been quite a year," Dupic said. "I'm not sure a lot of people know what to expect as far as our conference goes. Some teams have been a little more consistent like Northwestern and some teams are playing well at the right time. At this point I'm glad we have an opportunity to go play in the tournament. We have to focus on us and do what we can to execute the best we can."