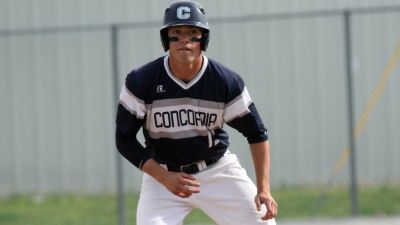 TUCSON, Ariz. – Jake Adams and the Bulldog offense kept on raking, Jason Munsch tossed zeroes on the mound and the Concordia University baseball team ended the Tucson Invitational with two more victories. In Friday's action in the desert, the Bulldogs took games from Presentation College (S.D.) by scores of 11-5 and 9-3.
Third-year head coach Ryan Dupic's squad now sits at 8-6 overall. Concordia went 7-3 on the road trip, during which it piled up exactly 100 runs.
"Approach-wise, we continue to get better at being all in on the pitch that we're looking for," said assistant coach Bryce Berg. "This was a really good week for guys to start to get comfortable and get a lot of at bats at a time. Our depth has continued to improve and I think that was showcased again today. We have a lot of guys playing pretty good baseball. Different guys are stepping up and that's all you can really ask for as a coach."
As prolific as the offensive attack has been lately, Berg was just as encouraged by the work of Munsch, a freshman left-hander from Campbell, Calif. He covered the first five innings of game 1, struck out four and only three hits, one walk and no runs.
"Munsch was really good today," Berg said. "It really helps when you get a good outing out of your starting pitcher. "He was really good. I don't want all the hitters to take credit, because he went five shutout innings and set the table for us on the mound."
Concordia gave its pitchers plenty of support with a combined 20 runs on 32 hits for the day. In game 1, seven Bulldogs rapped out two hits apiece: Adams (2-for-2, home run, RBI, two runs), Wade Council (2-for-3, walk, run), Ryan Fesmire (2-for-4), Kaleb Geiger (2-for-4, double, three RBIs), Christian Montero (2-for-4, double, two RBIs, run), Logan Ryan (2-for-4, triple, two runs, two RBIs) and Thomas Sautel (2-for-4, home run, RBI, two runs).
Adams ended up a perfect 6-for-6 on Friday after going 4-for-4 with two runs driven home in the second game. Also in game 2, other leading hitters were Casey Berg (4-for-5, two runs), Ryan (2-for-3, RBI) and Geiger (2-for-4, walk, two runs).
During the course of the Arizona trip, Concordia broke two single-game school records – one for runs scored (31 versus the University of Winnipeg) and another for home runs (six versus Waldorf University). The bats are clicking.
"We still have things we need to improve upon offensively," Berg said. "We're going to go to work on that next week. Overall I'm really proud of the way the guys competed. It was nice to get off to get off to a better start today in both games."
Three different Bulldog pitchers navigated the seven innings of game 2. Neil Ryan started and allowed two runs (both earned) in three innings. Cade Moring allowed one run and struck out three while going two innings. Council then tossed two clean innings without a hit or walk to close out the road trip.
Friday's opponent, Presentation, is a member of the North Star Athletic Association. The Saints now sit at 6-12 overall.
Concordia is scheduled to return to action next Friday (March 17) when it will host a single game with both Nebraska Wesleyan University and 16th-ranked University of Jamestown (N.D.). The Bulldogs split a doubleheader in Arizona with Jamestown, a future member of the GPAC.