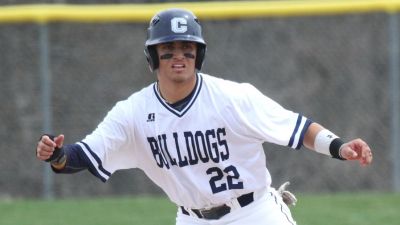 TUCSON, Ariz. – Despite the continued hot hitting by second baseman Christian Meza, the Concordia University baseball team fell for the second time on the current road trip. In a nine-game that featured nine different pitchers, the Bulldogs were defeated, 8-7, by Grand View University (Iowa) in Tucson, Ariz., on Monday night (March 5).
Fourth-year head coach Ryan Dupic's squad is 3-2 at the Tucson Invitational and 5-4 overall this season.
"You're never happy when you get beat, but I really liked the way we competed," Dupic said. "That's a good ball club and it was a great chance for us to be in a tight game. It was a good learning experience for us."
Offensive outbursts have been a theme in Arizona. A 4-1 Concordia lead in the fifth inning was far from safe. Meza had staked the Bulldogs to a three-run advantage with a bases clearing double with two outs in the fifth. The Vikings (7-7) responded with five runs in the bottom half of the inning and then two more in the seventh.
Then in the eighth, Dupic pushed the right buttons by pinch-hitting Thomas Sautel and Johnny Bryce. Sautel delivered an infield RBI single and Bryce followed with a two-run base hit. Grand View reliever Austin Marchant eventually closed the door on Concordia by tossing a scoreless ninth, ending a contest that lasted well over three hours.
Meza went 3-for-5 out of the cleanup spot to lead the offensive attack. Evan Bohman also singled, scored and drove in a run. On the flip side, Bulldog pitchers struggled to handle Damon Nuss (4-for-5, three RBIs) and Cody Cline (2-for-4, three RBIs).
Senior righty Neil Ryan started on the mound for Concordia. He allowed only one run over the first four frames before running into trouble in the fifth. He struck out seven Vikings but was lifted with one out in the fifth and wound up being tagged with the loss. Out of the bullpen, Clayton Holcomb enjoyed the most success. He tossed 1.1 scoreless innings.
"Neil had a nice start. I was proud of the way he threw the ball," Dupic said. "We had a couple tough breaks that didn't go our way. I was actually pleased with Neil, Dylan (DuRee) and Clayton. I thought they did a nice job."
At the plate, Meza seems to have turned it on as a junior. Said Dupic, "He's been terrific. He's so competitive. He just hasn't missed a lot of baseballs here. We feel really good when he comes to the plate right now."
The Bulldogs will be off on Tuesday before returning to action at the Tucson Invitational on Wednesday with nine-inning battles against NCAA Division III Simpson College (Iowa) and Valley City State University (N.D.). Concordia is nearly halfway through an 11-game road trip in Arizona.