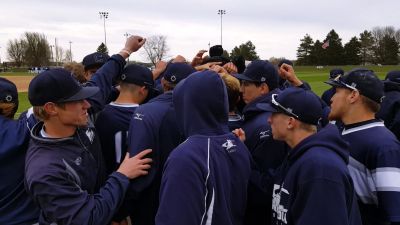 SEWARD, Neb. – Staff and members of the Concordia University baseball team found themselves rooting for Doane on Monday night. By winning the second game of a doubleheader at Midland, the Tigers ensured that the Bulldogs would not have to share the conference crown. The Concordia University baseball team is the outright GPAC champion. It's the first conference title for the program since 1986.
It's been an emotional ride for third-year head coach Ryan Dupic, who has lifted up a program that has broken the school record for wins three seasons in a row. Dupic took to Twitter on Monday night to thank those who played a role in the team's rapid rise.
"There are so many thoughts after winning the outright GPAC championship," Dupic wrote. "But it all centers around the incredible blessings the boys of CUNE Baseball are to me. I'm thankful to have been taken on this ride. I can't thank everyone (CUNE staff, administrators, athletic directors, coaches and trainers, parents, alumni, friends and supporters, etc.) enough. And most of all, I can't thank the players enough. You did it."
Many players also expressed their joy via social media. Sophomore Johnny May tweeted, "How I feel about not sharing the GPAC title" along with a gif of Napoleon Dynamite dancing. A teammate of May's in high school, shortstop Logan Ryan tweeted, "When you're a GPAC champ" coupled with a photo of he and Casey Hall leaping high into the air in celebration of a recent walk-off win over Briar Cliff. Tweeted senior left-handed pitcher Josh Prater, "GPAC Champs! Couldn't be a better group of guys to win it with." Another tweet by Wyatt Weller read, "Gone from not making the tourney to GPAC champs. What a difference our coach has made. Not done yet!"
The euphoria is appropriate for an accomplishment that has been so elusive for the program. Four-year seniors like Prater, catcher Ryan Fesmire and outfielder Tyler Nelson were here for the 2014 season that saw the Bulldogs go 16-30 overall. Records like that were actually a big improvement compared to the decade of the 1990s. Concordia's 30 wins in 2017 are more than the program had during the entire 1990s (27 wins). Players from the mid- to late-1990s claim that a losing streak reached more than 100 at one point.
It's a much different age of Concordia baseball. "There were a couple of different things. I would say the culture is a big thing," Fesmire said after the Bulldogs had clinched at least a share of the GPAC title at Dakota Wesleyan last week. "The culture change from my freshman to senior year is incredible, as well as the quality of people on the team, the quality of play, the quality of pitching and hitting. Really, everything is way better."
The 2017 Bulldogs have a nice balance of hitting, pitching and defense. The Concordia pitching staff has the GPAC's highest strikeout rate (6.45 per game) and also ranks second in opponent batting average (.261) and third in ERA (4.17), among conference teams. An offense led by senior third baseman Casey Berg, sports GPAC ranks of second in runs per game (6.7), third in slugging percentage (.440) and fourth in batting average (.291).
The growth of the pitching staff makes the Bulldogs a potentially dangerous postseason team. Three starters own ERAs south of 3.00: Prater (2.07, 5-3, 61 innings), Wade Council (2.22, 6-1, 48.2 innings) and Jason Munsch (2.96, 5-1, 45.2 innings). In addition, Nick Little fired a nine-inning complete game without allowing an earned run during last week's four-game series at Dakota Wesleyan. In other words, Dupic has four reliable starters, who are spinning it well at the right time.
Concordia now earns the right to host this week's conference tournament at Plum Creek Park, where it hopes to have a festive atmosphere. After an April 23 doubleheader sweep of Briar Cliff, second baseman Christian Meza pleaded with fans to continue showing their support. "A lot of fans are starting to come out," Meza said. "Keep on coming. We need the support."
The postseason run will begin for the Bulldogs on Thursday when they go up against the eighth seed in the bracket, which will be either Briar Cliff (16-32, 9-17 GPAC) or Doane (21-29, 11-17 GPAC). The bracket is not official, but fourth-seeded Hastings (26-20, 15-11 GPAC) and fifth-seeded Mount Marty (20-26, 14-14 GPAC) will also be making their way to Seward as part of the four-team pod.
"It's a nice opportunity for us to play more games at home and in front of our fans," Dupic said. "It looks to be a beautiful weekend and I'm hoping it will create a fun environment for the guys to play in. I'm thankful to be able to bring this type of experience to the Seward and Concordia communities."
Fesmire just wants to keep playing. Said the native of Firestone, Colo., "Any time you tell me I get to play more baseball I'm going to be really excited. I get to put off being an adult for a while and play more baseball. I'm overjoyed by that."
By way of winning the regular-season conference title, the Bulldogs have locked up an automatic berth to the national championships in what will be the program's first-ever appearance on the national stage. The National Championship Opening Round runs May 15-18 at the nine campus sites that were announced on Monday. The 45-team event features nine, five-team double-elimination tournaments. Opening Round qualifiers and brackets will be announced Thursday, May 11.
No matter what happens the rest of the way, 2017 will be remembered as a breakthrough campaign. Said Dupic, "I couldn't be prouder of our team."
Concordia Bracket Schedule
*All games nine innings; no run rules
Thursday, May 4, 2017
Game #1 – No. 4 Hastings vs. No. 5 Mount Marty, 3 p.m.
Game #2 – No. 1 Concordia vs. No. 8 Briar Cliff, 6 p.m.

Friday, May 5, 2017
Game #3 – Winner Game #1 vs. Winner Game #2, 12 p.m.
Game #4 – Loser Game #1 vs. Loser Game #2, 3 p.m.
Game #5 – Winner Game #4 vs. Loser Game #3, 6 p.m.

Saturday, May 6, 2017
Game #6 – Winner Game #3 vs. Winner Game #5, 12 p.m.
Game #7 – Game #6 winner/loser, 3 p.m. (if necessary)