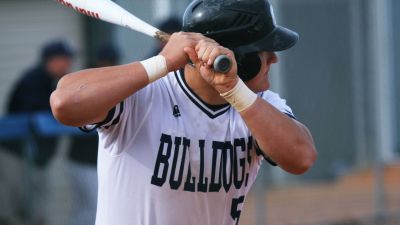 SEWARD, Neb. – Slugging first baseman Kaleb Geiger reached base in all five plate appearances as part of an 11-4 home-opening victory over Nebraska Wesleyan in Friday's afternoon contest at Plum Creek Park in Seward. In the day's second game, the Concordia University baseball team dropped a 12-2 decision to visiting University of Jamestown (N.D.).
The loss to the Jimmies (15-7) snapped a four-game win streak for third-year head coach Ryan Dupic's squad. The Bulldogs are now 9-7 overall.
Senior lefty Josh Prater went seven strong innings and Concordia jumped on top early by scoring at least one run in each of the first four frames of the day.
"I thought Josh threw the ball well and we had a lot of really good at bats," Dupic said of the win. "It wasn't like we had 20 hits the first game. We had good at bats in the right situations. We got on base on some different ways and then just had some really productive at bats."
The Prairie Wolves (7-6), in their first year as a member of the NCAA Division III Iowa Intercollegiate Athletic Conference, couldn't figure out Geiger. The native of Sedalia, Colo., homered, was hit by a pitch, walked, tripled and then doubled off Nebraska Wesleyan pitching. Geiger has already struck for four home runs and a total of nine extra base hits this season.
An offensive attack that entered the weekend averaging nearly nine runs per game has shown it can be lethal.
"We've had our ups and downs. We've had some good games and bad games," Geiger said. "But when we're on, it can be scary."
Casey Berg also tucked a three-run homer inside the right field foul pole in the second inning of the victory. Concordia added one more long ball in the night cap when Ryan Fesmire's drive to right went off the glove of a Jimmie outfielder and landed on the other side of the fence. The Bulldogs have belted 18 homers in the season's first 16 games.
Prater has been the team's most stable option in the rotation. On Friday, the native of Colorado Springs, Colo., gave up four runs (one earned) and struck out eight Prairie Wolves before turning the ball over to Desmond Pineda for scoreless eighth and ninth innings.
"He was good," Dupic said. "He had all of his pitches working. It starts with his fastball. He did a really nice job. That's what we expect from him."
Geiger (3-for-3, three runs, two RBIs), Thomas Sautel (3-for-4, two runs), Berg (2-for-4, two runs, three RBIs) and Jason Galeano (2-for-4, run, RBI) each had multiple hits against Nebraska Wesleyan. In the second game, the Bulldogs finally mustered their first hit in the sixth inning while dealing with Jamestown ace Jerome Byndloss, who struck out six and allowed only three hits and two runs (one earned) in 7.1 innings.
Concordia had split a doubleheader with the then 16th-ranked Jimmies at the Tucson Invitational on March 5. In Friday's meeting, freshman right-hander Nick Little was tagged with the loss. The star of the game was Scooter Turin, who went 3-for-3 and drilled a pair of two-run homers. Kory Wolden went 4-for-5 with four RBIs and three runs as part of his team's 13-hit attack.
The Bulldogs will be at Woods Park in Lincoln the next two days for single games. On Saturday, Concordia will again play Jamestown in Lincoln at 4 p.m. CT. The start of Sunday's game against Nebraska Wesleyan has been moved up an hour to 3 p.m.