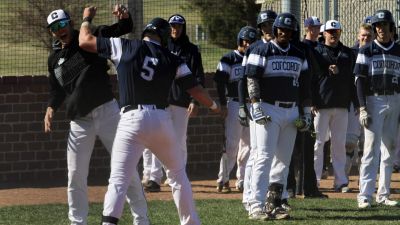 SEWARD, Neb. – Kaleb Geiger and Christian Montero blasted two more home runs apiece and the Concordia University baseball team celebrated its home-opening doubleheader by shredding Grace University on Sunday afternoon. The Bulldogs powered five long balls on the day and won by scores of 11-0 and 21-4 at Plum Creek Park.
Second-year head coach Ryan Dupic's squad moved to 14-12 overall. Concordia's blossoming lineup has now piled up 10 runs or more eight times this season.
"It's nice to have a chance to play at home. Right away offensively we were very good today," Dupic said. "The guys swung the bats really well and ran the bases very well. I thought we pitched it pretty well, too. They were well-executed ball games for us."
The Bulldogs punctuated the doubleheader by sending 17 batters to the plate during a 13-run second inning in game 2. Earlier in the day, Montero continued his hot hitting by drilling a two-run homer in the first inning and a three-run shot in the fourth as part of a six RBI performance in game 1. Geiger matched Montero by pounding a solo homer in the third inning of game 1 and then a two-run bomb in the fifth inning of game 2. For good measure, freshman Johnny May belted his first career home run in the fifth frame of the capper.
Montero (5) and Geiger (4) have combined four nine home runs this season while making up a potent middle of the order.
"It's a big key for us. It's something we've discussed a lot," Dupic said. "We need the middle of the order to be a force for us. Those are two big physical guys and when they're swinging it well they can be pretty dangerous. They were both very good today."
Montero, native of Santo Domingo, Dominican Republic, is making himself cozy after beginning the season with four hits in his first 27 at bats. He's now hit all five of his home runs over the past nine games.
"I've just been going up to the plate and hitting good pitches and putting a good swing on them," Montero said.
It was a parade of Bulldogs on the base paths on Sunday. They punished the Royals (0-12) with 27 hits while also drawing 13 walks and four hit-by-pitches throughout the doubleheader. Concordia did all of that damage without the services of three starting regulars who did not make the lineup due to injury: outfielders Alex Alstott and Taylor Bigandt and second baseman Alex Cargin.
May, a Johnston, Iowa, native, took advantage of his opportunity by going 4-for-6 on the day. He came up just a double shy of the cycle during his 3-for-5 effort in game 2. Out of the three hole, Geiger went 5-for-6 with four extra base hits, seven runs and six RBIs. Geiger was a single short of the cycle in game 2. Also in the second game, junior Tyler Nelson drove in four runs, three of which came on a bases-clearing double in the 13-run inning. Montero wound up 3-for-4 with a pair of walks.
Junior Jacob Adams ended game 1 with the highlight reel defensive play of the day. The right fielder ranged into the gap to make a sprawling catch, preserving Concordia's second shutout of the year. Right-handed pitchers Mark Harris and Drew Woods teamed up to hold Grace to just three hits. Harris fired 5.2 innings and struck out seven on the way to his third win of the year. Sophomore Cole Jackson then notched his first career victory as a Bulldog by hurling five innings in game 2. He struck out six while surrendering just one run on two hits and two walks.
Concordia is now averaging 7.9 runs per game and is on track to shatter last year's single-season school record of 289 runs scored. The Bulldogs have tallied 205 runs in 2016.
The Bulldogs return to Plum Creek Park on Tuesday when they host No. 13 Tabor College (Kan.) (21-8) in a twin bill set for 1 p.m. CT. It will be a rematch of the March 15 twin bill in which the Bluejays swept, winning by scores of 15-3 and 4-2.