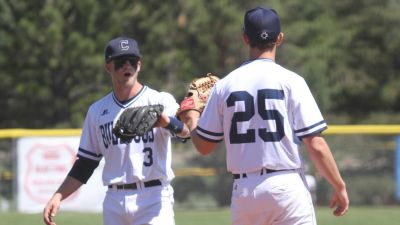 SEWARD, Neb. – With Concordia's cadre of freshman arms, the future looks especially bright. But so does the present. With a chance to lock up a spot in Tuesday's GPAC tournament championship game, the Bulldogs leaned upon the right arm of rookie Nick Little, pulled away late and toppled Mount Marty, 8-2, at Plum Creek Park on Saturday afternoon.
Third-year head coach Ryan Dupic's top-seeded squad took care of business at home over the past few days. Its route to the conference title game has included wins over Briar Cliff, Hastings and Mount Marty as part of the Concordia Bracket. The Bulldogs have won 10 of its last 11 games and stand at 33-19.
"We've executed and played well enough to win," Dupic said. "Certainly there are things we can do better, but all-in-all I have to be happy with the way we've been playing. We've pitched and defended very well and that's put us in position to win games. Today we were able to get into their bullpen and that really helped. We're happy to be able to move on."
Little allowed a pair of hits and a run in the first inning and then settled in. He only struck three Lancers over his nine-inning complete game, but he coaxed plenty of ground balls to the left side that were gobbled up by shortstop Logan Ryan and third baseman Casey Berg. Little scattered eight hits and walked just one hitter while tossing his second complete game in a row. Sixteen outs came from ground balls on Saturday.
Freshmen pitchers have actually tossed every inning of each of Concordia's last two wins in the postseason. Dupic has not been hesitant to turn the ball over to the likes of Little, Wade Council, Jake Fosgett, Jason Munsch and Desmond Pineda.
"We have a good class here," Little said. "It's going to be fun to watch us. We're freshmen right now and we're doing good things. I can't wait to see what we're going to be in future years."
After one-run wins on Thursday and Friday, Dupic was happy to see late innings with much less drama. The Bulldogs broke open a game that had been 3-2 after six innings. As part of a three-run seventh, Council singled in a run and Jake Adams plated another with a sacrifice fly. Concordia provided itself more breathing room with a Christian Meza RBI single and Jason Galeano sac fly in the eighth.
Meza enjoyed a big day out of the No. 3 spot, going 3-for-4 with a double, a run scored and two RBIs. Christian Montero delivered two hits, including a double, and scored two runs. Concordia totaled 12 hits with one apiece coming from seven different players.
But Little emerged as the story of the game. There have been some ups and downs for the Lithia, Fla., native, but he's put things together at the right time.
"He's finding it here recently," Dupic said. "You can tell he's more confident. His fastball has been better over the past two games. That's been the difference that I've seen. He's had a little more juice to it and he's commanding it better. That really sets up his changeup. He has to start with his fastball."
Mount Marty (22-28) made a nice push on Friday with wins over eighth-seeded Briar Cliff and fourth-seeded Hastings. Few hitters performed as well in the Concordia Bracket as the Lancers' Bo Howard. He went 3-for-4 with a run against Little.
Already a national tournament qualifier and GPAC regular season champion, the Bulldogs will take aim at adding some more hardware on Tuesday when the conference tournament championship game is staged at Plum Creek Park. First pitch is set for 6 p.m. CT. Second-seeded Midland (39-18), which also won its own bracket, will serve as the opponent. The two sides split their four regular-season matchups.
Concordia is hoping for another spirited evening atmosphere like it had on Thursday for the win over Briar Cliff.
"I'm so happy for the players," Dupic said. "That's what we talked about with the players was how awesome of an atmosphere it's going to be Tuesday night. It's going to be a beautiful night. It's going to be an unbelievable night to come out and watch a baseball game.
Concordia Bracket Results
Thursday, May 4, 2017
Game #1 – No. 4 Hastings def. No. 5 Mount Marty, 3-0
Game #2 – No. 1 Concordia def. No. 8 Briar Cliff, 6-5

Friday, May 5, 2017
Game #3 – No. 1 Concordia def. No. 4 Hastings, 3-2
Game #4 – No. 5 Mount Marty def. No. 8 Briar Cliff, 6-5
Game #5 – No. 5 Mount Marty def. No. 4 Hastings, 8-2

Saturday, May 6, 2017
Game #6 – No. 1 Concordia def. No. 5 Mount Marty, 8-2
Tuesday, May 9, 2017
GPAC Championship: No. 1 Concordia vs. No. 2 Midland, 6 p.m.