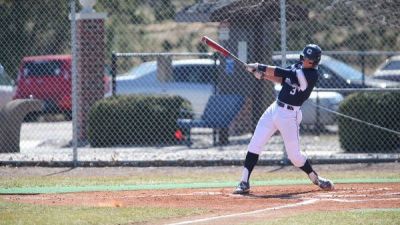 Bulldog baseball buys into new leadership
By Jake Knabel, Director of Athletic Communications
Officially named Concordia University head baseball coach on July 1, Ryan Dupic has already begun to shape the program according to his vision. Greeted by a team equipped with several veteran position players and starting pitchers, Dupic has received a warm welcome from the inherited group of Bulldogs.
The transition began a few months ago with the start of fall semester practices that gave Dupic the opportunity to observe his new squad in game situations. After a fall season that ended in early October, the Bulldogs resumed baseball activities in November with a three-week period heavy on mechanical work focused upon defensive drills and pitching.
It didn't take long for players to buy into a coaching staff that also includes full-time assistant Jake Waddle along with graduate assistant John Couch and Nick Ginapp, who, like Dupic, is a Buena Vista University alum.
"I've been very pleased with the way that the players have welcomed us as a coaching staff," Dupic said. "I feel like they've been very excited and very enthusiastic about the changes we're trying to make and the things we want to implement. We have a relatively older group so we feel good about the fact that there's a foundation to build upon there. We're just trying to establish some other foundational things in terms of the way we want to play the game and the type of work habits and culture that we want to have within the program."
The 2013 and 2014 seasons fell short of the program record win total of 25 in 2012. Senior infielder Cole Stuerke and a host of upperclassmen are ready to put behind the frustrations of the past two seasons. There's a natural uptick in electricity that comes with capable new leadership.
"With the new coaching staff there's been a renewed energy," Stuerke said. "It was getting a little monotonous and down because of the rough seasons. I think we have a renewed fervor for the game. I'm really excited for this upcoming season."
Dupic knows something about building winning programs. The native of Emmetsburg, Iowa, spent the previous seven seasons as the top assistant at Buena Vista, which had experienced losing seasons in 24 of 26 years prior to 2008. This past season the Beavers went 37-9 and had their top pitcher selected in the 2014 MLB draft.
A former pitcher with pro experience, Dupic brings instant credibility that commands the respect of his players.
"I think everyone's definitely really excited," senior pitcher Jaydee Jurgensen said. "One of the things that happens with a new coach is that the coach wants to be able to trust the players and the players want to be able to trust the coach. They have everyone's trust and everyone bought in within the first week or two. I think everyone's really excited about it. Coach Dupic brings a ton of excitement and energy every day."
Dupic's pitching expertise figures to improve a staff that struggled last season and lacked the depth to consistently get outs against the GPAC's top offensive teams. Jurgensen and fellow senior Will Holbrook are likely to again make up part of a pitching staff that may also be helped by an infusion of transfers.
Jurgensen says his arm feels better now than it has at any point in his college career, and Holbrook has been busy soaking up Dupic's teaching.
"It should benefit us greatly," Holbrook said of Dupic's pitching knowledge. "Every day it's like coming to a classroom. I've learned more this year than I can even put into words. His pitching background is evident and the practices are purposeful. The pitchers should get better because of it."
Beyond tutoring a growing pitching staff, Dupic has gone to work on cultivating a winning mindset – something that existed during his time at Buena Vista.
"The biggest thing is making sure that we continually improve the way that we think on a consistent basis," Dupic said. "You see guys have this real yearning to be successful, but maybe we need to understand the consistency it takes to be successful on a daily basis. It's challenging to be good. That's why it's hard work. I think we're learning how to think more positively, but also in a way that's more disciplined and tough. We don't want to give into things. We want to be able to stay the course as we go about our business."
Concordia's 2015 squad will feature a strong lineup led by the likes of seniors Andrew Yerrell (team high .363 average in 2014) and Daniel Wilkerson (five home runs, 13 doubles in 2014) and juniors Alex Cargin and Taylor Dudley. That leaves the offseason focus on run prevention. Dupic and company are determined to cut back on last season's 115 errors that helped let in 94 unearned runs.
Fortunately, Dupic has a group that's eager to work hard to smooth out the rough patches. Plenty of seniors have invested too much to simply let 2015 get away. The words "bought in" are coming from all directions.
"They have been very welcoming," Dupic said of the upperclassmen. "They seem very excited about the transition and they're looking forward to having a big year. We're going to need them for sure."