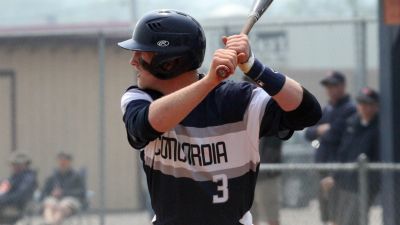 TUCSON, Ariz. – In Thursday's action at the Tucson Invitational, the Concordia University baseball team put on a powerful display, belting a school single-game record six home runs in a 21-6 win over Waldorf University (Iowa). A more challenging assignment in the afternoon resulted in a 3-2 loss that came at the hands of Valley City State University (N.D.).
Third-year head coach Ryan Dupic's squad now stands at 6-6 overall. The Bulldogs are 5-3 in Tucson with two games left on the road trip.
"It was a good day offensively," said assistant coach Bryce Berg. "We got off to a little bit of a rocky start on the mound. We got down 5-0 in the top of the first and then got six back in the bottom half. Casey (Berg) did a really nice job of setting the table. Christian Montero had some nice at bats. Jason (Galeano) finally had some better luck. He's been hitting the ball hard, but right at people.
"We had guys all over the lineup that came in and were ready to go. This is probably the best we've looked as an overall offense from top to bottom. Guys are staying disciplined and hitting their pitch."
The left-handed hitting Berg took the first offering he saw on Thursday over the right field wall to open up the bottom of the first. In a rare feat, he then blasted a grand slam later that inning as Concordia batted around. Galeano also connected for two of his three homers on the day against Waldorf pitching. Additionally, Jake Taylor mashed a grand slam and Jake Adams added another homer.
The Bulldogs collected 18 hits while putting up video game numbers in the day's first game. Christian Meza went 4-for-4 with a double and two RBIs. Galeano went 3-for-4 with two home runs and five RBIs. Berg went 2-for-3 with two home runs and five RBIs. Taylor went 2-for-4 with a home run and four RBIs. Montero went 2-for-2 with a double, a walk and a hit by pitch. Wade Council went 2-for-5. Finally, Ryan Fesmire went 1-for-1 and drew three walks.
Unfortunately, the prolific run scoring did not carry over to the next game.
"We saw a good arm. He mixed pitches really well," Berg said. "Our guys stayed the course and got better as the game went on. The ball didn't bounce our way. We didn't execute well enough with runners in scoring position."
Concordia came within an eyelash of tying the Vikings in the seventh and final inning. With a runner on third, Galeano drilled a line drive that caromed off the pitcher and rolled to the third baseman, who fired to first for the game's final out. In that seventh frame, Montero had put Concordia within a run with an RBI double.
Berg ended up with a 4-for-6 day after adding two more hits in the second game. He entered the day with only one career home run as a Bulldog. Galeano boomed his first three homers for Concordia after transferring from the University of Illinois Springfield. His home run against Valley City State came on the eighth pitch of the at bat.
On the mound, freshman Nick Little took the ball against Waldorf. He surrendered all six runs, but settled down after his shaky first inning and got the win. Casey Hall pitched three scoreless innings in relief and struck out four. Senior lefty Josh Prater went up against Valley City State. Two of the three runs he allowed (all in the third inning) were unearned. Prater went 4.1 innings. Nic Seaman covered the final 1.2 innings and kept Concordia within striking distance.
Friday will mark the end of Concordia's 10-game tour at the Tucson Invitational. The day will bring a doubleheader with Presentation College (S.D.). First pitch is set for 9 a.m. MT / 10 a.m. CT from the Kino Sports Complex. The Bulldogs will be on field 4 of the complex.