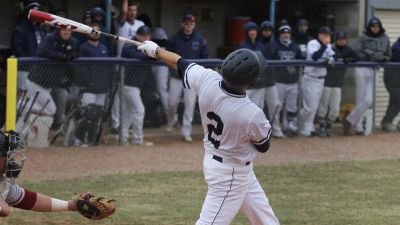 SIOUX CITY, Iowa – The Concordia University baseball team is still working on putting everything together at the same time. The bats heated up on Tuesday night (April 10) in Sioux City, Iowa, where the Bulldogs tallied 15 runs in a makeup doubleheader with Morningside. Concordia took game one by a 10-4 score and then fell in the nightcap, 8-5.
Fourth-year head coach Ryan Dupic's squad had been hoping for its second doubleheader sweep since conference play began. The Bulldogs now sit at 17-14 overall and at 5-7 in the GPAC.
"I actually thought today was a positive step," Dupic said. "We were better offensively, which was really encouraging. We had some really nice at bats up and down the order. Our bench was really good. We were also better defensively. We made a few more plays in both games. Morningside is probably the best offensive team we've seen within the conference this year. They put some pressure on our pitchers. We were a couple pitches away from holding them down a little bit better."
The performance in game one was the offensive outburst Concordia had been striving for. The Bulldogs scored in each of their final four turns at bat, including a four-run third and a three-run sixth inning. Thomas Sautel delivered two-run singles as part of both innings. Evan Bohman and Wade Council both drove in two runs while Keaton Candor and Logan Ryan notched two hits apiece in the win.
Ace pitcher Nick Little has been so exceptional this season that his four earned runs allowed were a season high. He still managed to record his sixth complete game and improve his record to 6-2. He surrendered eight hits and two walks and struck out six. He's logged 62 innings over eight starts in 2018.
In game two, Dupic was forced to use five different pitchers. In the late innings, Wyatt Weller and Jake Fosgett held the Mustangs off the board. Their work gave the Bulldogs a shot in the bottom of the seventh. They loaded the bases with no outs only to come up empty. Elliott Conover escaped with the save.
The Mustangs hit three home runs. The big flies came from Joe Genoways, Sam Huska and Andrew Kasperbauer. Meanwhile, Concordia put up each of its five runs in the second inning of game two. Johnny May, Council and Christian Meza combined to account for all five RBIs on run-scoring doubles. Starter Cade Moring was unable to hold what had been a 5-3 lead.
Dupic feels like his team is getting closer to tying all facets of the game together. Said Dupic, "We were just better overall. We didn't pitch quite as well as we have, but I think the track record says that we usually we've been pitching well. If we can continue to improve I think we're heading into the right direction."
The Bulldogs are also scheduled to return to Sioux City, Iowa, for a four-game weekend series at Briar Cliff (16-17, 5-9 GPAC). Doubleheaders start times for both Saturday and Sunday are set for 1 p.m. CT. The Chargers have dropped seven of their last eight after a 4-2 start in conference play.