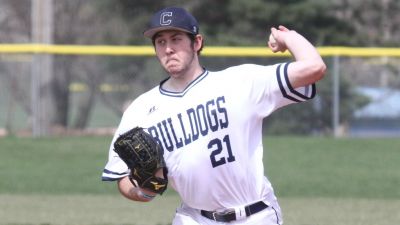 FREMONT, Neb. – The Concordia University baseball team had featured one of the top offensive attacks in the NAIA entering Tuesday night's (March 27) doubleheader in Fremont, Neb. The host Warriors used pitchers Bryan Smith and Torrey Escamilla to cool off the Bulldogs, who fell by scores of 3-1 and 9-1. Concordia managed a combined 12 hits on a chilly Nebraska evening.
The pair of defeats ended a four-game win streak for fourth-year head coach Ryan Dupic's squad. The Bulldogs stand at 14-9 overall and at 2-2 in conference play.
"We didn't play well today," Dupic said. "A couple of the runs they scored were situations where we kind of beat ourselves. The second game that happened a little as well and they were able to get their bats going. Offensively, they kept us off balance. We weren't able to make adjustments. It was just one of those days where they played better in all facets. They deserved to win."
Concordia squandered a quality outing by lefty hurler Jason Munsch in game one. Other than a rough second inning that included four walks, Munsch was fantastic. He covered all six innings, allowing just three hits while striking out nine. He retired the final eight Warriors he faced.
Munsch has struck out 20 hitters over his last two starts and 35 in 20 innings this season. Said Dupic, "You take that stretch away (second inning) and he was very good. Unfortunately, that stretch counts."
Midland (16-9, 4-0 GPAC) had its way in a matchup between teams that held down the top two spots in the final 2017 GPAC standings and met in last season's conference tournament championship game. The Warriors have been just about unbeatable with Escamilla on the mound. He has not been tagged with a loss since April 2, 2016. In his latest outing, the ace from Fremont tossed a seven-inning complete game that included 10 strikeouts.
There wasn't much to summarize from a run scoring perspective for the Bulldogs. They got their only tally in game one on Evan Bohman's pinch-hit RBI single in the sixth. Peyton Scott, a pinch runner, crossed home plate on a passed ball in the fourth inning of game two.
Armando Fajardo homered in the second game for Midland, which made Concordia toggle through five pitchers. Buddy Balsino also went 2-for-4 with three RBIs. Bulldog starting pitcher Wade Council was chased after 2.1 innings.
Up next for Concordia is a four-game weekend series with Hastings (8-15, 0-2 GPAC). The first two will be played at Hastings at 5 p.m. CT on Friday. Play will then shift to Plum Creek Park for a 2 p.m. twin bill on Saturday. The Broncos dropped two at home to Doane on Tuesday.