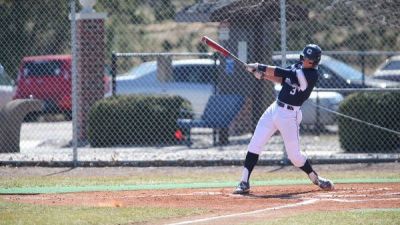 Bats bust loose to fuel split at Ottawa
OTTAWA, Kan. – After hurler Jacob Loucks limited the Concordia University baseball team to only four hits in a game one shutout, the Bulldogs broke out with 13 runs on 16 hits in game two to earn a split in a road doubleheader at Ottawa University on Saturday afternoon. Ten different Bulldogs joined in on the hit parade and right hander Will Holbrook grabbed his first career win with Concordia (3-3).
Host Ottawa won game one 4-0 before head coach Jeremy Geidel's squad responded with a 13-3 victory.
"In the first game we got in an early hole," Geidel said. "We had our chances throughout the game to score but we didn't execute. In game two Will did a great job again. He was competitive the entire game.
"Our bats finally came alive and didn't let up. It wasn't a perfect day, but our guys are competing the entire time."
Third baseman Andrew Yerrell led the attack as he went 3-for-5 with two RBIs and two runs in the win. Four other Bulldogs racked up exactly two hits: Zach Cambier (2-for-4), Alex Cargin (2-for-4), Erik Ellison (2-for-4) and Ryan Fesmire (2-for-5). Cargin, Camaren Gause and Cole Stuerke all equaled Yerrell's two runs driven in.
The offensive explosion began in the third inning when Gause's two-run single opened the floodgates. Concordia got three in the third, four in the fourth, and three apiece in the fifth and sixth innings to run away from the Braves (1-1).
Those runs were much more than enough to make a winner of Holbrook, a native of Tucson, Ariz., who made his second career start as a Bulldog. He covered all seven innings, scattering nine hits and one walk. He struck out seven. Ottawa tacked on two runs off Holbrook with the game well out of reach in the seventh.
In game one, Concordia ace Jaydee Jurgensen fell to 0-2. He struggled early, giving up three runs on five hits in the first inning. The Lincoln native then settled in and surrendered just one more run over his next five innings of work. However, the Bulldogs left eight runners on base offensively in falling victim to the fine work of Loucks, the Braves pitcher.
The Bulldogs return to action on Sunday with single games at the same site against both Ottawa and William Penn University (Iowa). Game times are scheduled for 10:30 a.m. and 12:30 p.m.