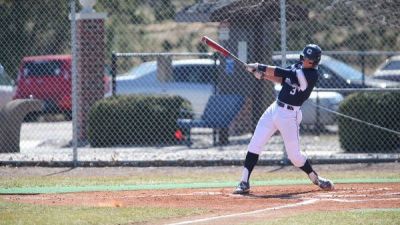 Baseball welcomes Dordt for conference-opening doubleheader
SEWARD, Neb. – Following a sterling 20-game nonconference run to begin the 2015 season, the Concordia University baseball team opens up conference play on Saturday when Dordt (6-8, 0-0 GPAC) visits Plum Creek for a 4 p.m. doubleheader. First-year head coach Ryan Dupic's squad will attempt to begin a new win streak after having a 10-game win streak snapped in a 10-8 loss to York College on Wednesday.
Both of Saturday's games can be seen live online via the Concordia Sports Network.
Concordia's 14-6 start has been fueled by solid production from both its pitching staff and lineup. At the top of the rotation, senior lefty Jaydee Jurgensen (4-0, 2.57 ERA) and freshman righty Neil Ryan (3-0, 1.05 ERA) are a combined 7-0 over nine starts. Last week Jurgensen struck out 12 Dakota State hitters in a complete game victory as part of a four-game series sweep of the Trojans. Jurgensen and Ryan rank Nos. 1 and 2, respectively, among GPAC hurlers in lowest opponent batting average.
A total of nine Bulldog position players who have made nine starts or more own batting averages better than .300. First baseman Zach Cambier leads the way with a .408 batting average. Center fielder Alex Alsott, an on-base machine, has already racked up six triples and a home run. Meanwhile, second baseman Alex Cargin sports a team high 14 RBIs.
Among GPAC teams, Concordia ranks No. 1 in ERA (3.45), second in lowest opponent batting average (.250), third in runs per game (7.4) and slugging percentage (.449) and fourth in batting average (.328).
Dordt (11-29 overall in 2014) enters the weekend leading the conference in batting average (.357) and runs per game (8.0). On the other spectrum, the Defenders have struggled to prevent runs, ranking seventh in the GPAC in ERA (5.70) and ninth in fielding percentage (.931). Center fielder Jake Thayer has pounded out 21 hits in 43 at bats and leads the GPAC in batting average (.488). Teammates Bryan Wallman (.478) and Nate Forseth (.467) rank second and third, respectively, on the conference batting average leaderboard.
After Saturday's action concludes, Concordia will head to Yankton, S.D., for a Sunday doubleheader with Mount Marty (16-9, 0-0 GPAC). First pitch is set for 1 p.m.