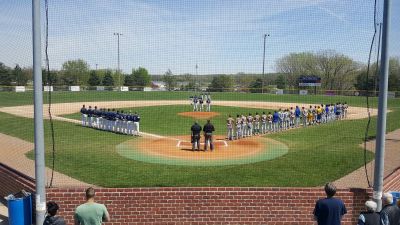 SEWARD, Neb. – Last seen at the opening round of the 2017 NAIA national tournament, the Concordia University baseball program is set to return to the diamond on Feb. 23 when it will open up the 2018 season at Evangel University in Springfield, Mo. The program announced its 50-game regular-season schedule on Wednesday (Nov. 29). For the second year in a row, the slate includes 14 GPAC doubleheaders.
Ryan Dupic, 2017 GPAC Coach of the Year, is about to embark upon his fourth season leading the program. Dupic guided the 2017 team to a GPAC regular-season title, ending a 31-year conference championship drought for Bulldog baseball. While breaking the school record for wins in a season, Concordia went 34-22 overall, advanced to the GPAC postseason championship game and earned a national tournament win over the University of Jamestown.
Once again, the Bulldogs will spend their spring break in Arizona at the Tucson Invitational (March 3-5, 7-9). Complete details on opponents and game times have not yet been released for the Tucson Invitational. Concordia is scheduled to play Evangel four times during the opening weekend (Feb. 23-24) of the season. Its home debut is set for March 20 when Kansas Wesleyan University will visit Plum Creek Park. Conference play will open up that weekend (March 24-25) with home doubleheaders versus Mount Marty and Morningside.
The GPAC postseason tournament is scheduled to play out May 3-5 with the top two seeds again hosting separate pods. The pod winners will meet in the championship game on May 8. Plum Creek Park served as the venue for last year's title contest. The opening round of the national tournament is set for May 14-17 while the NAIA World Series in Lewiston, Idaho, will run May 25 – June 1.
The NAIA released the coaches' preseason top 25 poll on Nov. 7. The Bulldogs were listed among "others receiving votes" in the national poll. Based on the official GPAC ratings on naia.org, Concordia has been picked to repeat as GPAC champions.