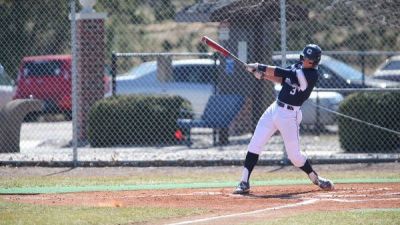 Baseball splits at Hastings, remains in contention for GPAC tournament berth
HASTINGS, Neb. – The entire eight-team GPAC tournament field will have to wait until Saturday to be finalized. The Concordia University baseball team remained alive by earning a 7-4 game 1 victory as part of a doubleheader split on Friday evening at Hastings College (13-25, 7-13 GPAC). The Broncos solidified their spot in the postseason by taking the night cap.
At 15-29 overall and 5-13 in GPAC play, Concordia will need to pull ahead or draw even with Mount Marty (22-20, 6-12 GPAC) on the regular-season's final day in order to reach the conference tournament. The Lancers host Dakota Wesleyan on Saturday.
"We need to win games. We're not trying to hide the fact that we're in a must-win situation," head coach Jeremy Geidel said. "We came out ready to go. We got the momentum early and our guys responded. Our bullpen did a good job. We staffed it a lot different with (Will) Holbrook coming out of the bullpen."
Designated hitter Andrew Yerrell again powered the Bulldog offensive attack from the No. 3 hole. Yerrell went 6-for-7 with a double, a triple, three runs and two RBIs in the twin bill and is now a white hot 10-for-12 over the past three games, raising his average from .323 to .366.
Yerrell helped get things started in a two-run top of the first in game 1. He singled and ended up stealing home a double steal. The native of Santa Fe, Texas, led off the third and fifth innings with hits to initiate additional scoring. The Bulldogs put up a crucial three spot in the fifth inning thanks also to Daniel Wilkerson's sac fly and Josh Mondt's RBI single.
Lefty Jaydee Jurgensen gave Concordia six solid innings of work on the bump to earn his second win. The Lincoln native allowed four runs (two earned) on seven hits and one walk. He surrendered back-to-back singles to begin the bottom of the seventh and was lifted for Holbrook, who retired three of the four hitters he faced to pick up the save.
"Jaydee pitched well and it was big getting those three runs in the first inning," Geidel said. "That makes it a whole different ballgame."
The Broncos returned the favor by striking for three first-inning runs in game 2 off starting pitcher Josh Prater. The Bulldogs tightened it up when Yerrell tagged Christian Schneider for a two-run single in the fifth. Schneider was masterful against everyone not named Yerrell as the Bronco righty hurled a nine-inning complete game and struck out 13.
Hastings left fielder Trenton Neill matched Yerrell with three hits in both ends of the doubleheader.
Both teams had their issues defensively, combining for 14 errors on the day. Hastings committed six errors to aid Concordia's game 1 victory.
The Bulldogs used six different pitchers on Friday but Geidel says everyone will be available Saturday with the likely exception of Friday's starters (Jurgensen and Prater).
"We have to bring it all to the ballpark," Geidel said. "We have to be locked in physically and emotionally. Our guys will be ready. They're going to get after it. Our game plan doesn't change, there's just a little added pressure."
Concordia and Nebraska Wesleyan (6-27, 5-13 GPAC) are set to take the field at 1 p.m. at Plum Creek Park on Saturday. The Bulldogs' five seniors will be recognized between games.