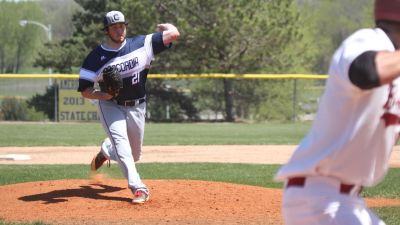 SEWARD, Neb. – The reigning 2017 GPAC regular-season champion Concordia University baseball program picked up votes in the NAIA Baseball Coaches' Preseason Top 25 Poll released on Tuesday (Nov. 7). Appearance among "others receiving votes" is another indicator of the program's quick rise under head coach Ryan Dupic. The Bulldogs, who collected 17 points in the preseason poll, are coming off a school record 34-win campaign.
Though the official GPAC poll will be released just before the start of the 2018 season, Concordia checked in at No. 1 in the conference ratings that were first released by the NAIA on Monday (Nov. 6). The Bulldogs were listed in front of No. 2 Midland and No. 3 Morningside. In the existence of the GPAC (2000-present), Concordia has never been a preseason favorite to win the conference.
The departures of reliable position players such as third baseman Casey Berg, outfielders Jake Adams and Christian Montero and first baseman Jason Galeano mean that the Bulldog lineup will have a different look this coming spring. However, Dupic has put together a well-stocked pitching staff that relied heavily upon freshmen in 2017. The wealth of arms includes the likes of Wade Council (3.83 ERA, 51.2 IP), Nick Little (4.37 ERA, 70 IP), Jason Munsch (3.07 ERA, 55.2 IP), Desmond Pineda (2.76 ERA, 42.1 IP) and Tanner Wauhob (3.03 ERA, 29.2 IP).
The 2018 season is scheduled to begin Feb. 23 with a doubleheader at Evangel University (Mo.). The complete schedule will be released to the public in the very near future.