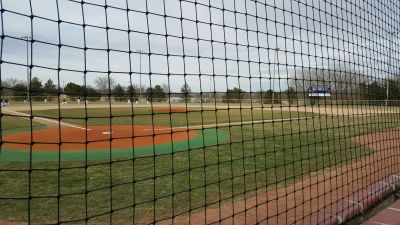 SEWARD, Neb. – After playing its first 19 games away from home, the Concordia University baseball team is getting set to make a first 2018 impression at Plum Creek Park. The Bulldogs are slated to play five home games over a five-day stretch coming up Wednesday through Sunday. The home stand will begin with Wednesday's single nine-inning game versus Kansas Wesleyan University. Then it's time for conference play.
This week's schedule
Wednesday, March 21 vs. Kansas Wesleyan, 5 p.m. (1x9)
Saturday, March 24 vs. Mount Marty, 1 p.m. (DH)
Sunday, March, 25 vs. Morningside, 1 p.m. (DH)
*All games this week will be shown live via the Concordia Sports Network.
It's still early, but fourth-year head coach Ryan Dupic appears to have a squad capable of making another run at a GPAC title. Concordia was picked atop the league in the preseason and then fell back to No. 2 in the conference poll released on March 5. It remained second (behind Briar Cliff) in the poll unveiled today (March 19). In terms of overall winning percentage, only Mount Marty (12-6) and Briar Cliff (11-6) appear above the Bulldogs (12-7) among GPAC teams.
Concordia is coming off a solid week on the road that included a 16-3 win at Kansas Wesleyan (17-14) and then two victories in a three-game series at College of the Ozarks (17-11). The Bulldog offense exploded for 39 runs over those four games. The offensive production so far has been especially impressive considering the departures of many of the team's top position players on the 2017 GPAC championship group. Concordia ranks first in the GPAC and 20th nationally in runs per game (8.0). In Sunday's 10-0 win at Ozarks, Dupic picked up the 100th victory in his head coaching career.
Five Bulldog regulars are hitting better than .340 through 19 games: Christian Meza (.438), Keaton Candor (.433), Thomas Sautel (.375), Wade Council (.362) and Kaleb Geiger (.348). Last week Geiger became the program's all-time RBI leader while Council starred with the bat and with his arm. In the series finale at Ozarks, Council tossed a seven-inning, three hit shutout. The day before, Council blasted a pair of home runs, giving him a team high four this season.
The Lancers are second to Concordia on the conference leaderboard in terms of runs per game (7.4). Mount Marty hasn't hit for as much power as the Bulldogs, but it owns a .346 team batting average with Gabriel Leon (.423) and several other regulars hovering around .400. The Lancers were picked fifth in the GPAC preseason poll. Meanwhile, the Mustangs are just below .500. Picked third in the league, Morningside has struggled in the pitching department (7.10 ERA). Its biggest highlight so far was a 4-1 win over then No. 14 The Master's University (Calif.) on March 5.
Other than a couple of nonconference games with York College, the Bulldogs will settle into conference play the rest of this regular season. Concordia is scheduled to play league doubleheaders on Tuesday, Friday and Saturday of next week.