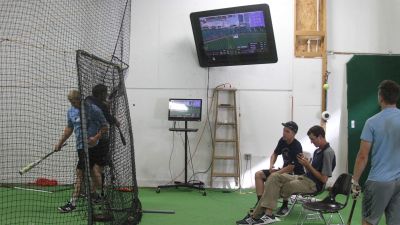 It's a warm Thursday afternoon in the middle of September and Concordia's slugging first baseman Kaleb Geiger is taking aim at the famed Green Monster that makes up the left field wall at Fenway Park. OK, so it's really a simulation of sorts, but after each loud ping off of Geiger's bat, he peaks back at a video screen connected to a unique system. This piece of technology works to process nearly every detail about the baseball as it soars through Boston skies.
Teammate Jake Taylor, a sophomore infielder, jokes, "If you take a picture of the screen, make sure it shows me winning." In a field of four on this particular day, Taylor is dwarfed in stature by the likes of Geiger, 6-foot-5 Connor Anderson and 6-foot-4 Tate Ellison. Coaches Ryan Dupic, Bryce Berg and Jake Adams are all present as the friendly competition unfolds inside the on-campus Hitting Center, an indoor facility shared by the baseball, softball and golf programs.
Says Geiger of the new technology, "It's a whole lot of fun. It's like a video game. It's like a useful training video game."
The 'video game' Geiger speaks of is called HitTrax, a revolutionary data capture and simulation system that allows users to immerse themselves within a variety of Major League Baseball parks. HitTrax was recently installed inside the Hitting Center and has already become a popular resource for members of Dupic's program (it will also be a resource for Todd LaVelle's softball program). The equipment analyzes some of today's prominent hitting buzzwords such as launch angle and exit velocity, essential means of projecting hitter performance into actual games.
Fresh off guiding the program to a GPAC regular season title this past spring, Dupic and Berg are the type of coaches that are always researching, learning and adapting in an effort to stay on the cutting edge. They calculate their own advanced statistics to better evaluate performance throughout each season. HitTrax provides another tool to objectively analyze personnel and to influence player development.
"Last spring we were talking about recruiting and how important it is to develop our players," Dupic said. "One day I said to Bryce, maybe we should get HitTrax. We just felt like it was an opportunity to create more excitement for players improving and a way for providing more information. In baseball, it's so much hearsay. How hard did you really hit that ball? Was that a really a strike or not? What pitches in the zone do you handle well or not handle well? It allows our players to have a better understanding of what they do well and maybe don't do as well."
Watch any Major League Baseball game today and it's difficult to avoid mentions of exit velocity, essentially how fast the ball travels when it leaves the bat. Players like Geiger are capable of repeating exit velocities of 100 miles per hour, an indicator of excellent raw power. With HitTrax, Concordia hitters will know exactly how hard they hit the ball, in real time, when working out in the Hitting Center.
The system also indicates the result of each batted ball, such as a single to left, a fly out to center, a ground out to third, etc. Not only that, HitTrax has the ability to show players their hot and cold zones within the strike zone, whether they are chasing pitches out of the zone and which pitches they are most and least adept at hitting.
"The biggest thing I can say about this system is that I think it creates a huge sense of ownership," says Berg, the team's hitting coach. "It's right in front of them. It's not subjective feedback that I'm giving them. If a guy sees a swing and feels like he hits it hard but then sees a number he doesn't want, he's going to try to compete harder and improve that. It's not something that I have to teach to them. I think we already had guys in our program constantly seeking daily improvement and accepting challenges. I think this allows us to bring that to life even more than before."
The players have responded. They enjoy competing for the highest scores given out by the HitTrax system, which uses a special algorithm for assigning points to each batted ball. The tool will be especially handy during the upcoming wintry cold months that chase Midwest teams inside.
"Part of our culture is the 'challenge accepted' mentality," said outfielder and lefty pitcher Wade Council. "This gives us another aspect of it. You can go in and compete and try to outscore your opponent. It's fun to go in and see how many points you can rack up."
A new baseball language is taking hold inside the program. Exit velocities get recited like batting averages. Said Council, "I got 95." For the coaches, the new data they are receiving gives them a unique challenge in regards to how they value and interpret the numbers. Berg says he is paying close attention to plate discipline, hard contact rates and launch angles. Berg then reviews the information with players and shows them what they need to work on.
Dupic and Berg will never have to make lineup and roster decisions based solely upon live at bats they see in January and February. Dupic also stresses the need to make sure "we don't overload the information but still use all the benefits it provides. We're still figuring it out as we go a little bit." Dupic adds that he thinks it will provide additional motivation for players to want to hit often and want to get better. The players seem to be backing up those sentiments.
Says Geiger, "I had never even heard of it until I saw it when they brought it here. I had no idea what it was, but once I started using it I thought, 'This is going to be pretty sweet.' I think it will be a great tool. I think the new group of younger baseball players are really into this stuff."
Berg has noticed the changes during fall cage work. No longer are players simply driving baseballs into lifeless nets that interrupt the flight of the ball. Indoor batting practice has been reinvented.
"Everyday they come in they're excited to work with HitTrax and excited to be in the cage," Berg said. "One of the biggest challenges will be to keep them away from it at times so we can do the other training components. I just like the environment it creates as far as games and competitions. It helps raise the level of intensity at a practice."
Fundraising dollars were used for the purchase of HitTrax. Said Dupic, "It took a lot of help from our coaches and players fundraising and the terrific support we receive from players and fans, alumni and people connected to the university. This is a tangible way for people to see how they're helping the Concordia baseball program. We're using fundraising for things that really help the program. On top of that, our administration, Devin (Smith) and Angela (Muller), was so supportive in getting behind this so we could continue to try to improve our program."