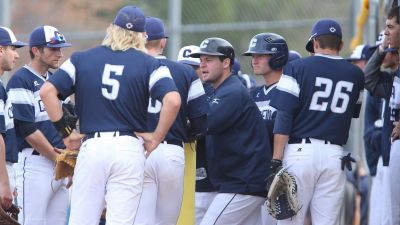 SEWARD, Neb. – A year after setting a new program standard for wins in a season, the Concordia University baseball team has been picked by league coaches to finish ninth in the GPAC. The conference released the preseason poll on Thursday (see complete poll below). Second year head coach Ryan Dupic's squad went 26-18 overall with an 8-12 GPAC mark (ninth place).
The Bulldogs welcome back a large number of their key players from last season, including first team all-conference center field Alex Alstott, who led the GPAC in on-base percentage (.488) and slugging percentage (.712) in 2015. Alstott's prowess at the top of the lineup paved the way for a program record 289 runs scored. In addition, last year's pitching staff, headed by departed senior Jaydee Jurgensen, broke a school single-season record with 270 strikeouts.
Opening day is now 23 days away for Alstott and company. The Bulldogs are scheduled to begin their season Feb. 13 with a doubleheader in Lindsborg, Kan., against Bethany College, a member of the Kansas Collegiate Athletic Conference.
2016 GPAC baseball preseason poll
*First-place votes in parentheses
1. Doane – 87 (2)
2. Morningside – 86 (5)
3. Briar Cliff – 84 (4)
T4. Midland – 68
T4. Northwestern – 68
6. Mount Marty – 49
7. Dakota Wesleyan – 47
8. Hastings – 44
9. Concordia – 42
T10. Dordt – 15
T10. Nebraska Wesleyan – 15