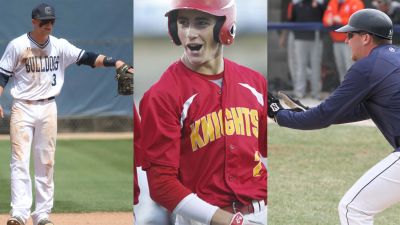 Ready or not, there's another one on the way. Believe them, it's not as if they had all hatched a plan long ago to one day follow roads that would lead them to 800 North Columbia Avenue. That's just the way it happened. Someday it will all make sense.
Concordia University, Nebraska – it's the right place for the baseball loving Bergs. They just didn't know it, even as recent as five years ago. Said Ben Berg, the third of four Berg brothers, "When Casey first went to Concordia we didn't really know anything about it, where it was or anything like that."
A senior at Kuemper Catholic High School in Carroll, Iowa, Ben is about to take the same baseball trail already blazed by older brothers Bryce and Casey. First came Casey in 2014 right as Ryan Dupic was just getting comfortable in his new role as Concordia's head baseball coach. Soon after, the oldest brother Bryce, an Augustana University (S.D.) graduate, entered the picture as a grad assistant coach. Now a full-time assistant, Bryce will have the opportunity to coach Ben again this fall as he did for one year at Kuemper Catholic.
This Concordia migration all started with Casey simply looking for a place to play after completing a season at North Iowa Area Community College. Just a year-and-a-half younger than Bryce, Casey never thought he would ever be coached by big bro. But baseball brought them together, just like it always has.
Said Bryce, "There are a lot of memories that surround baseball. Vacations involved baseball. Baseball has always been one thing that has brought us together. It all started when my dad got us involved at a really early age. It wasn't something he ever had to push on us either. It was something that we enjoyed and were always passionate about. It's been really cool to see each of my younger brothers as they've grown up and their passion for the game has increased. There are so many lessons you can learn through the game."
The Bergs are well established as a baseball family within the Carroll community. Their father Rod played at Central College in Pella, Iowa, and coached each of his sons as youngsters. Bryce and Casey played together at Kuemper Catholic on successful teams that reached the state tournament in Bryce's junior and senior seasons. Ben and youngest brother Kyle are currently in the midst of another prep season where in Iowa, high school ball is played in the summer.
The way the brothers tell it, Bryce and Ben share a lot of qualities while Casey and Kyle seem to be more alike. What Dupic can appreciate is that they all have a passion for the game and for making themselves better.
"First thing you notice is just a general love for the game of baseball," Dupic said. "They really enjoy the game. They work very hard and are very passionate about baseball. With Casey it was never about whether he was going to work hard enough. He was always so passionate about improving himself as a player and about playing hard. Bryce was the same way. He was the same way as a player and is the same as a coach. He always wants to improve. He just loves baseball. He loves being around the game. Ben is the same way. He follows the game so much and really enjoys it."
Dupic and Bryce were strategic about the way they went about recruiting Ben, who also gave strong consideration to Bryce's alma mater, Augustana. Dupic took the lead. As Ben put it, he felt Bryce did not want to play the "brother card." Dupic developed a strong rapport with Ben that proved crucial in the final determination.
Admitted Bryce, "I do wonder sometimes – saying 'no' to me probably would have been pretty hard for him. I hope that didn't weigh in too much for him."
Says Ben, "I had watched Bryce play at Augustana and have a lot of respect for their program. It was not an easy decision. Ultimately, the relationship I developed with Coach Dupic was what set Concordia over the top. It's also a bonus to be able to have Bryce there … I had a chance to see their games in Arizona for spring break and you could tell it was a program that was on the rise."
Ben is regarded as a catcher with advanced defensive skills and one with an improving bat. The potential is there for him to make a significant impact at the college level, especially when considering his maturity. "People have told me I'm a good defensive catcher," Ben said. "That's something that I hang my hat on. I work hard behind the plate. I enjoy being a leader back there. As the catcher you're like the point guard or the quarterback. I want to be a good leader in this program. I also think I can continue to improve and be a good offensive player."
The coach-player relationship between Bryce and Casey and Bryce and Ben figures to be a bit different. Bryce will be working closely with Ben and the other Bulldog catchers and hitters. The dynamics were unique with Bryce and Casey having played together and having been especially close in age. Dupic sees no reason to believe there will be any problems with this new arrangement – other than perhaps a normal brotherly spat or two.
"I think our relationship will really take off as a result of us being here together," Bryce said. "Ben and I have always been pretty close. We'll shoot texts back and forth. He loves to tell me how things are going for him. He's more like me in the sense that he's pretty analytical about things. He's way cooler than I ever was – way more social. It will be fun to coach him."
Added Ben, "I've come over and I've visited the facilities and I'm used to working with Bryce and hitting with him. I have a lot of respect for him. I don't think it will be awkward. He's someone that I know works hard to be the best coach he can be."
It won't be long before the next in line, Kyle, has a college decision to make. No matter his choice it's safe to say Concordia will have had a lasting impact on the Berg family – and vice versa. Seward, Nebraska, has become a destination for a group of Berg brothers who are simply following their dreams.
The Bergs and baseball were meant for each other. When Bryce proposed to his now wife Nicole, where do you suppose he led her to? A baseball field of course. Says Bryce of the game of baseball, "I think that passion just trickled down to us (from our dad). He's been really good about letting us choose a path. We all kind of chose the same path."