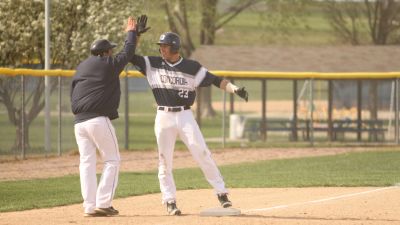 Alstott, stellar bullpen clinch program's first winning season in 36 years
SEWARD, Neb. – Center fielder Alex Alstott reached base all nine times and the Bulldog bullpen hurled a combined seven scoreless innings as the Concordia University baseball team swept a doubleheader from visiting Northwestern on Monday at Plum Creek Park. The pair of wins allowed the Bulldogs to clinch their first overall winning season since the 1979 team went 15-9-1.
First-year head coach Ryan Dupic's squad, which triumphed in both ends of a conference doubleheader for the first time this season, improved to 24-14 overall and 6-8 in GPAC action. Concordia is now 9-2 at home.
"It's huge for us," Dupic said. "We have a lot of games in a very short period of time down the stretch. It's big to come out and start the week on a good note and create some momentum for the rest of the week."
Even for the sizzling Alstott, Monday's twin bill was exceptional. The Fort Dodge, Iowa, native ignited the offense by going 5-for-5 with a triple, a home run, three walks, a hit by pitch, four runs and seven RBIs on the day. In the second inning of game 1, Alstott lifted a fly ball into the jet stream that carried it over the right field wall for a grand slam and a 5-2 Bulldog lead.
Alstott then burned the Red Raiders again in the seventh. After a Northwestern rally knotted the score at 6-6, the impossibly hot Concordia leadoff man tripled in his sixth and seventh RBIs of the game to provide an 8-6 lead. Right-handed reliever Mark Harris protected the advantage by retiring the final three hitters of the seventh following a leadoff walk.
Now 32-for-71 (.451) with an .859 slugging percentage since March 21, Alstott is seeing the ball as if it were the size of a watermelon.
"Today was definitely a good day," Alstott said. "I was seeing the ball great. Today was the best baseball day I've had in a while."
The Bulldogs had to claw back from a 3-0 deficit in the nine-inning night capper. After allowing three runs in the first inning, freshman lefty Taylor Bickel settled in and worked four-straight scoreless frames. He then gave way to senior Heath Benker, who picked up the win by throwing up donuts in the sixth, seventh and eighth innings. Harris then made another appearance and notched his second save.
In sum, three different Bulldog relievers – Benker, Harris and Edwin Izumigawa – combined to throw seven innings without surrendering a single run (five hits, three walks) on Monday.
"It's really been a story of our success," Dupic said. "When we've been good our bullpen's been good. When we got on a hot streak in Arizona our bullpen was really, really effective. It was the same thing today."
In game 2, Alstott walked his first three times at bat before adding a pair of singles. He scored the game's winning tally in the bottom of the eighth when Kaleb Geiger plated him with a ringing double to center. Geiger finished 1-for-6 on the day, but drove in four runs.
Shortstop Casey Berg, now batting .359 this season, also played a hand in the game 2 rally. He crushed a no-doubter over the right field wall in the bottom of the third for his first career home run. Berg went 3-for-5 and scored four times on Monday. In addition, senior Daniel Wilkerson went 2-for-4 in the second contest.
Bulldog left fielder Cole Stuerke turned in the day's most significant defensive play when he ended game 2 with a diving catch to rob Grant Lang of what would have been a game-tying hit in the top of the ninth. Alstott also showed off his strong arm by nailing a Red Raider baserunner attempting to tag from second to third late in game 1.
The Northwestern offense was led by Zach Cortese and Skyler Wheeler, who had two hits apiece in both games.
The Bulldogs continue their stretch of four doubleheaders in five days when they host Morningside (31-13, 8-6 GPAC) on Tuesday. First pitch is set for 2 p.m. from Plum Creek Park in a twin bill that was originally scheduled to take place over the weekend.