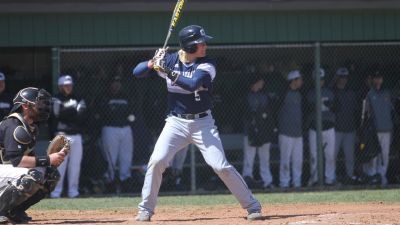 Alstott shines in pair of losses at first-place Briar Cliff
SIOUX CITY, Iowa – One of four Concordia baseball teams ever to reach the 20-win mark, the 2015 Bulldogs found out why Briar Cliff (23-13-1, 9-1 GPAC) sits atop the GPAC standings. On Saturday afternoon the Chargers tagged Concordia's Nos. 1 and 2 starting pitchers for a combined 10 earned runs in a doubleheader sweep in Sioux City. Briar Cliff won by scores of 7-2 and 15-11.
For the first time in conference play, a Concordia doubleheader resulted in something other than a split. First-year head coach Ryan Dupic's squad is now 21-12 overall and 4-6 in GPAC contests.
"In the first game their pitcher kept us off balance," Dupic said. "We really struggled to get anything going. I was proud of how we came back in the second game. Our guys had some really nice at bats. Alex Alstott was really good today and Alex Cargin was outstanding. Those guys did a really nice job."
Lefty starting pitcher Jaydee Jurgensen, the reigning GPAC pitcher of the week, navigated 4.2 innings but allowed seven runs (six earned) on eight hits in the opening contest. The Chargers were on him early with four first-inning runs. Darrell Wilson provided the big blow with a grand slam that cashed in a pair of runners who reached on hit by pitches.
Concordia's game 1 tallies came on run-scoring singles by Alstott and shortstop Casey Berg. Alstott was just getting started. He went 4-for-8 on the day with a home run and a double while boosting his team high slugging percentage to .650.
Cargin enjoyed a monster game 2 at the plate in helping Concordia come all the way back from a 7-1 deficit to take a 9-7 lead in the top of the seventh. Cargin's two-run homer in the sixth put the Bulldogs within a run. He then doubled in a pair of runs an inning later to give Concordia a two-run advantage. He finished 3-fo-4 with two runs and five RBIs in game 2.
However, the Bulldogs were plagued by three errors and the first rough outing of the season for freshman starting pitcher Neil Ryan in the capper. Ryan surrendered seven runs (four earned) and was pulled with one out in the bottom of the second. AJ Peterson relieved Ryan and held the Chargers scoreless for 3.1 innings, giving the Concordia offense a window to rally back.
"I tip my cap to AJ Peterson and John-Jay Silva," Dupic said. "They kept us in the ballgame and really competed hard. We just didn't make enough plays down the stretch defensively or make enough big pitches."
Daniel Wilkerson (2-for-5, double, RBI) and Berg (2-for-3, two doubles, three runs, RBI) also collected two hits apiece in game 2. Berg has gone 17-for-29 during his current nine-game hitting streak. He was a key part of Concordia's 12-hit attack in game 2.
Wilson also burned Concordia in game 2. He went a combined 5-for-9 with a home run, two doubles and eight RBIs on Saturday. Briar Cliff game 1 starter Adam Alexander hurled a seven-inning complete game, limiting the Bulldogs to five hits and two walks.
Concordia will hit the road for another GPAC doubleheader on Sunday when it takes on Dakota Wesleyan (12-18, 2-8 GPAC) in Mitchell, S.D. Game time is set for 1 p.m.