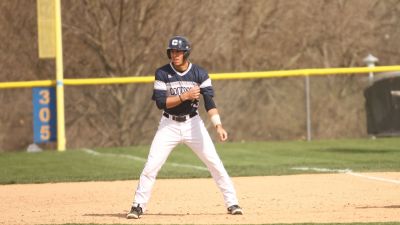 SEWARD, Neb. – A stellar first season as a Bulldog landed center fielder Alex Alstott a spot on the Omaha World-Herald's All-Nebraska NAIA Baseball Team. Meanwhile, teammates in pitchers Mark Harris and Jaydee Jurgensen garnered honorable mention recognition from the Omaha news outlet.
Alstott enjoyed one of the greatest seasons for any Concordia position player in program history in 2015. The first team all-conference choice led the nation in triples with a school record 13 three-baggers. He also produced GPAC bests for the categories of on-base percentage (.488) and slugging percentage (.712). He batted .356 (47-for-132) with five home runs, 25 RBIs, 43 runs and 11 stolen bases.
On the mound, Jurgensen flourished as a senior. He went 6-1 with a 3.49 ERA and 54 strikeouts in 56.2 innings. Opposing batters hit just .224 off the lefty ace. Harris, a junior from Tucson, Ariz., topped the team with 17 pitching appearances. He posted a 4-2 record to go along with a 3.00 ERA and 27 strikeouts in 27 innings.
Under first-year head coach Ryan Dupic, Alstott and the Bulldogs broke a program record for wins in a season by going 26-18 in 2015.
2015 All-Nebraska NAIA Baseball Teams
C: Osvaldo Gonzalez, Bellevue, Sr., .418
1B: Dylan Matthews, Doane, Jr., .372
2B: Jed Derr, Doane, Sr., .326
3B: Tyler Blood, Bellevue, Sr., .324
SS: Tommy Anderson, Doane, Fr., .365
U: Randy Santiesteban, Peru State, Sr., .431
EH: Liam Bedford, Doane, Jr., .412
OF: Rudy Perez, York, Sr., .352
OF: Alex Alstott, Concordia, Jr., .356
OF: Dylan Steyer, Midland, Jr., .344
OF: Seth Walston, Peru State, Sr., .378
P: Steve Sarcone, Bellevue, Sr., 10-1
P: Brad Lindsley, York, Sr., 9-5
P: Adam Quintana, Peru State, Sr., 8-0
P: Stephan Meyer, Bellevue, So., 11-2
P: P.J. Matha, York, Jr., 2-1, 9 saves
Honorary captains: Randy Santiesteban, Peru State; Osvaldo Gonzalez, Bellevue
Honorable mention: Aaron Brasher, Gabriel De La Rosa, Sean McManus, Colton Nash, Bellevue; Mark Harris, Jaydee Jurgensen, Concordia; Tony Pins, Brandon Stennis, Nick Studer, Adam Touhey, Doane; Will Reynolds, Micah Lockerby, Ryan Schrad, Nicholas Schuman, Hastings; Cole Gray, Zach Kinsella, Jake Lofthus, Cody Pollack, Midland; Sam Ayars, Jordyn Johnson, Matt Schommer, Nebraska Wesleyan; Manny Arciniega, Joshua Alonzo, Kyle Killen, Luke Schneider, Peru State; Cody Baack, Anthony Enriquez, Ivan Perez, York.