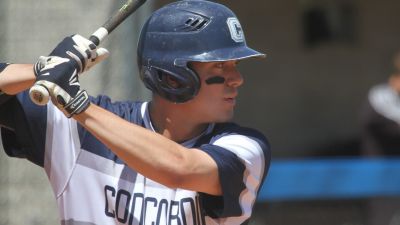 CoSIDA Academic All-District choices
SEWARD, Neb. – A 2016 GPAC Gold Glove Team selection, senior center fielder Jake Adams has garnered 2017 Academic All-District (College Division) accolades, as chosen by College Sports Information Directors of the Year. The announcement was made on May 4. Adams is the program's second All-District winner in three seasons, joining Jaydee Jurgensen (2015).
The CoSIDA Academic All-District™ Baseball Teams have been released to recognize the nation's top student-athletes for their combined performances athletically and in the classroom. For more information about the Academic All-District™ and Academic All-America® Teams program, please visit http://cosida.com.
Adams earned his degree in business administration. The native of Mason City, Iowa, is batting .307 with a .423 on-base percentage. He has eight doubles, one triple and two home runs while starting 51 of 52 games for head coach Ryan Dupic's GPAC championship team. In 103 career games as a Bulldog, Adams has batted .291 with six home runs and 54 RBIs. Adams will join Dupic's coaching staff next season as a graduate assistant.
Adams is the fourth Concordia Academic All-District selection in 2016-17. Both Chandler Folkerts and Hallick Lehmann collected Academic All-America honors.
The College Division is broken down into athletes at institutions from the following states: Iowa, Kansas, Minnesota, Missouri, Montana, North Dakota, Nebraska, South Dakota and Wisconsin.
2016-17 academic all-district honorees
(*Academic All-American)
Jake Adams, Baseball
*Chandler Folkerts, Basketball
Le'Dontrae Gooden, Football
*Hallick Lehmann, Football
2015-16 academic all-district honorees
(*Academic All-American)
*Amy Ahlers, Golf
*Stephanie Coley, Track & Field
*Chandler Folkerts, Basketball
*Hallick Lehmann, Football
Adam Meirose, Football
Becky Mueller, Basketball
*CJ Muller, Track & Field
*Kim Wood, Cross Country/Track & Field
2014-15 academic all-district honorees
(*Academic All-American)
Amy Ahlers, Golf
*Brendan Buchanan, Soccer
Stephanie Coley, Track & Field
*Chandler Folkerts, Basketball
Jaydee Jurgensen, Baseball
Adam Meirose, Football
Bailey Morris, Basketball
*Rachel Mussell, Soccer
Shawn Rodehorst, Golf
Ben Sievert, Cross Country/Track & Field
Melissa Stine, Soccer