No breakpoint
Breakpoint
sm
Breakpoint
md
Breakpoint
mlg
Breakpoint
lg
Breakpoint
xl
Breakpoint
2xl
Protocol Questions and Answers
Concordia Cares remains the foundation for the health and safety protocols of our campus during the ongoing pandemic. It's not a gimmicky title to intrusive mandates, but rather, a reflection of the care our community shares with one another. We get to care for each other because Christ first cared for us.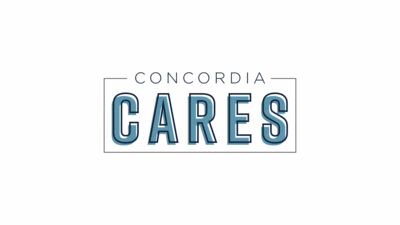 We recognize that these are certainly complex matters and, amid the search for truth and the best path forward, there are clearly strong viewpoints and differences among Christians and members of the Concordia community about the levels of protections and protocols needed for our campus. It is the genuine prayer and desire of everyone at Concordia that we seek a path forward, one that strives to embody our commitments and identity as a distinctly Lutheran institution, slows the spread of COVID, reduces the number of people in quarantine, is informed by data from within our community and the recommendation of the local health department, and allows us to enjoy in-person life and learning.
The goals we seek to achieve collectively through Concordia Cares are:
Maintain the continuity of in-person classes, worship and community.
Create conditions where positive interactions and relationship building flourish.
Decrease the risk and exposure to immunocompromised and the more vulnerable members of our community and their families.
Decrease the amount of COVID spread to the surrounding communities.
Comply with state, federal and other standards associated with a safe workplace.
Decrease amount of COVID-positive cases at any one time so as to avoid the disruption of class, services to students, and the operation of the University 
We acknowledge that COVID may always be with us. Our focus for delivering a safe campus is based on these foundational goals.
We have heard, and will continue to listen to, your questions and concerns. As we do, we will maintain and update this list of questions and answers for those who haven't asked, or who do not feel comfortable doing so.
Date of last update: Sept. 10, 2021
What is Concordia's motivation for requiring face coverings when we reach "yellow protocols"?
Concordia's focus is to provide a safe environment for our students together with faculty and staff as they learn and live in a caring Christian community. Thus, the motivation for the use of face coverings is Christian care for one another, with a hope of slowing the spread of COVID and achieving the goals listed above.
Face coverings are consistently recommended by local, national and international public health officials, as part of a comprehensive strategy to suppress transmission of COVID and we have therefore included these in our yellow level protocols when transmission has reached an elevated level.
Our internal campus data from last fall showed us that, while COVID transmission around us in the Seward community increased to elevated levels, our campus community COVID transmission levels largely remained flat during the time our community wore face coverings.
Concordia announced in May that operations would be near pre-pandemic levels. What caused this to change?
The announcement in the spring outlined the intent to start the school year as close to pre-pandemic as possible, which we did. Our plans also indicated additional levels of protocols would be necessary based on the campus situation. When the campus situation changed, we went to the yellow as planned.
College-aged kids have a high rate of COVID-19 survival, why should they have to follow protocols?
Concordia's mission is to equip men and women for lives of learning, service and leadership in the church and world. As a mission-driven institution, serving our students best is when our campus is safe. While the national health data shows the majority of college-aged students recover from COVID, our goals include lessening the risk to the vulnerable, coupled with lessening the spread of COVID on our campus. This requires a shared set of protocols by all in the community.
Why didn't Concordia start the semester with a mask mandate like most of the other Nebraska schools?
Our focus is upon our six goals listed above. Given the low rates of COVID in the surrounding area, and the low rates of COVID amongst the student population on campus over the summer, it was determined that our green level was appropriate.
Why did Concordia move to the Yellow before hitting the 5% threshold?
The plans announced in July indicated that the 5% threshold was approximate. The university maintains a more detailed and confidential dataset. Upon review of this data, it became evident that by the next day we would be beyond the 5% threshold. We utilize all the current data publicly reported as well as forecasting data such as pending test results. Once we noticed the increasing rise in cases trending quickly toward the approximate threshold, we moved to the yellow level in an effort to help slow down transmission.
Will the university require students to get COVID vaccines at some point?
The university has no plans to require COVID vaccinations.
Will Concordia provide a religious exemption for face coverings?
As an educational institution of the LCMS (Lutheran Church Missouri Synod), who has not identified a biblical basis for religious exemptions from the use of masks for protective health purposes, Concordia is not in a position to recognize such religious exemptions. Concordia does recognize medical exceptions for not using protective masks, a student can contact the Student Life Office for confidential discussions related to these exemptions.
How is faith forming our decisions?
Our faith is central to every decision we make at Concordia. Each choice is prayerfully considered with the goal of showing our students and community as much grace as possible while protecting their well-being to the best of our ability. With that said, we recognize that there continue to be sometimes strong difference in how Christians and Lutherans respond.
When will the face covering policy go away?
The face covering policy will be reviewed on Sept. 13 or sooner should the situation warrant. The use of face coverings remains one of many strategies to reduce the spread of COVID on our campus when we reach levels of yellow or above. The CIMT team meets weekly to review university data, the local situation in the Seward community and consultations from Four Corners. We will continue to review and revise our protocols as new data becomes available.
Our faith says we should trust God and not be driven by fear, but this masks and COVID protocols seem to be driven by fear. How can we reconcile the wearing of masks with trusting God to care for us?
Our protocols and polices are not shaped by fear, but rather a desire to achieve the six goals above. We remain focused on charting a path to ensure our goals are reached through a safe campus.
Our understanding of God's world is limited. At Concordia, we have chosen to act in what we believe is in the best interest of our community, within the limited scope of our human knowledge and with much prayer.
How will the face coverings be enforced? What happens if I do not wear a mask?
In our current plan, face coverings are only required in yellow and above. In order for them to achieve the desired goals, we must have full community adoption. We urge students with questions or concerns to setup conversations with the student life office.
Why is Concordia University, Nebraska following the CDC when it is an entity that does not always align with Christian principles?
The primary public health department for which we consult with our local health department, Four Corners. We have a weekly meeting with Four Corners where they provide updates regarding the health situations in the community and provide guidance for our campus situations.
While we realize that some CDC recommendations are part of the local health department decision making, we value Four Corners focused approach to the health situation directly in our community.
What sources of data does Concordia use when developing protocols?
As a supportive member of the Seward community, we work with our public health officials to consult on our campus protocols. Concordia does not analyze individual studies including peer-reviewed research due to resource limitations.
In addition, Concordia has maintained an internal dataset since the start of the pandemic that allows us to analyze the trends and events specific to our campus situation.
Some students want the freedom to choose whether or not to wear a mask. Why are their desires not being taken into consideration?
Please be assured that our students' voices are not going unheard. We welcome and are thankful for each of the students, parents and community members who have reached out to share their views, their thoughts and their prayers with us. All decisions are made with a goal of keeping the educational experience on campus the best it can be, and considering the mental, physical and spiritual well-being of each student. In addition, we have added a Concordia's student-elected Student Senate president as a representative to the Critical Incident Management Team to ensure greater student voice in the process.
Why are there no students, professors or doctors on the CIMT?
The CIMT is made of members of the Concordia community that oversee various operations of the campus. All medical information comes from daily conversations with the local health department and public health agencies.
Beginning with the Monday, Sept. 6 CIMT meeting, the Student Senate president has been invited to participate in the CIMT planning.
Why is Concordia using outdated PCR testing?
The version of the PCR test used at Concordia, according to Mayo Clinic, the WHO and the FDA, is extraordinarily accurate when properly performed, as our Concordia staff has been trained to do. The recent PCR recall by the CDC was conducted because a new, more efficient multiplex PCR test was developed, not because of accuracy or sensitivity concerns. All PCR tests are designed to only give positive results if COVID-19 is present, and do not confuse COVID cases with cases of influenza. PCR tests remain the "gold standard" for detecting active COVID infections.
Can students refuse to take a COVID test if they are a close contact of someone with COVID?
Yes. Students do not need to be tested if they do not wish. However, if they choose not to take the test, they will be asked to quarantine for the full 10 days.
Can a student who in is in quarantine get out of quarantine with a negative test?
When a student enters quarantine, the timeframe is based on the local health department's recommendations which currently is 10 days. However, students may leave quarantine five days after exposure should they have a negative test. In these cases, when the student leaves earlier, for the remainder of the 10 days, they will need to wear their face covering at all times (indoor and outdoor), but are able to attend class and participate in regular activities. Take-out dining will be available to them during the remainder of the 10 days as well.
Why did Concordia wait until final tuition was due to change the operational plans?
The decision to adopt the yellow level protocols was based entirely on the increasing spread of COVID-19 within the Concordia community. As a result, we extended the opportunity for students in good standing to submit an appeal regarding tuition through September 3, 2021.