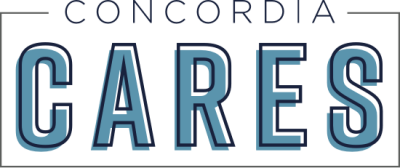 The health and safety of the Concordia community—her students, faculty and staff—as well as our ability to maintain an integrated physical learning and development environment, depends on a mutual commitment of caring and looking out for others.
Rev. Russell Sommerfeld, Interim President
The COVID-19 pandemic and the identified responses continue to evolve. The plans for Fall Semester 2020 and the campus reopening have been developed in good faith, based on what we know at this time. On a daily basis, we will monitor the situation in partnership with our local health department, Four Corners Health Department, and guidance from the CDC and the Nebraska Department of Health Services.
We realize that changes in the situation may require changes in our plans. As such, each update to these plans made after July 6, 2020, will be identified by one of the following indicators:
New additions to the plan.
Information related to an area has received clarifying information or additional details.
This item is no longer relevant and has been removed.
Student COVID Reporting
Please use this form to contact the health center to report COVID-19 symptoms, exposures or any other COVID-related questions or concerns.
Exercise physical distancing, stay six feet from others.
If you become ill, please do not leave your room or off-campus residence. Contact the Health Center at 402-643-7224 immediately.
Avoid touching your eyes, nose, and mouth with unwashed hands.
Wash your hands often with soap and water for at least 20 seconds. If soap and water are not readily available, use an alcohol-based hand sanitizer that contains at least 60% alcohol.
Cover your nose and mouth when you cough or sneeze.
Clean and disinfect frequently touched objects and surfaces.