A need for healing. A need for listening. And a need to lead change.
Published by Concordia University, Nebraska 9 months ago on Wed, Jun 3, 2020 2:36 PM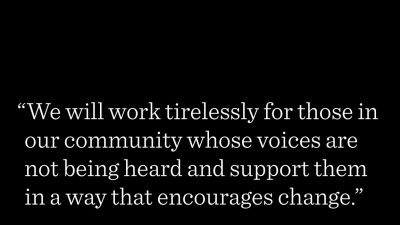 Dear Concordia Community,
The recent senseless deaths of George Floyd, Dreasjon (Sean) Reed, Ahmaud Arbery, Breonna Taylor and too many others have led to the all too familiar grief, pain and anger that can be traced throughout our history—the ugly reality of racism. The idea that prejudice, discrimination, assault or murder can be directed against someone of a different race based on the belief that one's own race is superior cannot be brought into alignment with the Word of God. God said, "Let Us make man in our image, according to our likeness…" (Genesis 1:26a).
As a Lutheran Christian institution of higher education, Concordia University, Nebraska condemns racism and injustice. Our community is built on the foundation of loving and caring for others before ourselves. "Do nothing from selfish ambition or conceit, but in humility count others more significant than yourselves. Let each of you look not only to his own interests, but also to the interests of others." (Phillippians 2:3-4).
Our biblical foundation denounces the violent and destructive actions of those who abuse the deep expression of pain and pent up anger over racism. "Let all bitterness and wrath and anger and clamor and slander be put away from you, along with all malice. Be kind to one another, tenderhearted, forgiving one another, as God in Christ forgave you" (Ephesians 4:31-32). Concordia deeply appreciates and supports the men and women who faithfully accept and carry out God's call to uplift and serve our communities.
As we consider how our campus community can begin to address the underlying issues and embedded systemic inequities of racism that demand real change and reform, we can each start by listening. Truly listening to our black community members and learning their realities—what is different and yet what is common, in our need for Christ and His forgiveness—is the first step toward reaching understanding and equality. Indeed, many more steps are needed to address embedded racism. I know that the Lord who sacrificed His life for all people is far greater than racism and will guide us in our efforts to show love, care and empathy to our fellow humans.
Genuine and even uncomfortable conversations need to occur, resulting in activities to recognize and respond to racism. We must strive to continue fostering and developing a caring environment where these conversations can take place, where we can learn from each other and then make a commitment that we will work tirelessly for those in our community whose voices are not being heard and support them in a way that encourages change. I believe this can be done because as we saw last night during the peaceful protest in downtown Seward, many of us are ready to not only have these uncomfortable conversations, but to also put our words into meaningful action. I know this can be done because the Lord Jesus who sacrificed His life for all people is far greater than racism. He can guide us in our efforts to show care and empathy to our fellow humans.
Those of us at Concordia University can influence each other to be Christian men and women of care and change through our Christ-centered community. We can engage in deep biblical and academic conversations into the root causes and potential solutions to racism and injustice. Our God-given purpose to serve neighbors because Christ served us can shape our attitudes and actions. We pray for healing and we pray for change that can happen after these genuine and uncomfortable conversations take place on our campus and throughout our communities.
We are committed to maintaining a community that values and recognizes the inherent dignity and worth of individuals and fosters tolerance, sensitivity, understanding and mutual respect among its members. We are also committed to ensuring this university will be a community that works for justice, peace and unity among all people.
Dear God, protect us from enmity, strife, jealousy, fits of anger, rivalries, dissensions, divisions (Galatians 5:20b) and enable us to bear the fruits of the Spirit in these Pentecost days--love, joy, peace, patience, kindness, goodness, faithfulness, gentleness, self-control…(Galatians 5:22-23b).
Yours in Christ,
Rev. Russ Sommerfeld
Interim President
Next Update
Previous Update