May 21 Campus Update
Published by Concordia University, Nebraska 7 months ago on Fri, May 22, 2020 1:06 PM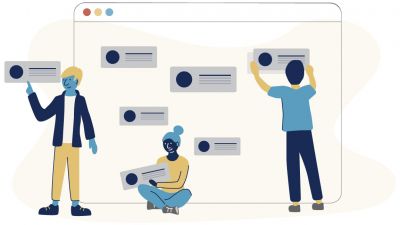 Presidential Search Update
Concordia's presidential search committee received more than 50 nominees to be considered as the University's next president. Of those 50 nominations, 20 agreed to stand for nomination. That list of 20 names was then sent to the Lutheran Church—Missouri Synod's review panel.
From that list of 20 names, the LCMS review panel approved seven nominees to continue in the search process. These nominees will be published on the University's presidential search page by May 26.
Dr. Robert Hermann, chair of the natural and computer sciences department and chair of the presidential search committee, said the goal is to have the first round of interviews completed in June. The second round of interviews may take place over the summer on campus, where candidates can meet with faculty, staff and students, as public health guidelines allow.
The presidential search committee's goal is to have a president installed by the Fall 2020 semester, depending on public health guidelines, Hermann said.
Reopening Task Force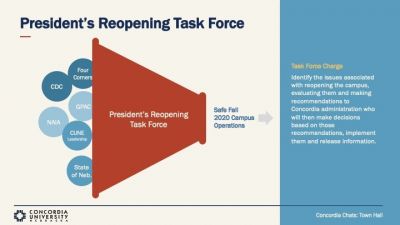 The Reopening Task Force, created after Concordia's administration approved the decision to reopen campus this fall, is charged with identifying the issues associated with reopening the campus, evaluating them and making recommendations to Concordia's administration, which will then make decisions based on those recommendations, implement them and release information. As with each decision that has been made up to this point, any future plans will be made with the goal of keeping our students, faculty, staff, the town of Seward and nearby communities as safe as possible.
The task force has been working on plans to prepare the campus for safe operations to meet the needs of our students, faculty and staff. These plans are being developed in alignment with decisions made by the University and governing bodies such as the State of Nebraska, CDC, NAIA and GPAC. In addition, the task force is reviewing multiple guidance sources for input on the plan. A few key sources of guidance are from the University of Nebraska Medical Center Global Center for Health Security and the Centers for Disease Control and Prevention.
The task force's plan for a safe campus reopening will be submitted to the cabinet by June 15. Cabinet will review and endorse the final plan no later than July 15 to ensure adequate time for the preparation of adjustments in operations.
COVID-19 Testing
This notice was provided to us from Four Corners Health Department:
TestNebraska will be coming to the Four Corners District next week to provide free COVID-19 tests. They are scheduled to be in York on Tuesday, May 26 and in Seward on Wednesday, May 27. To learn more, and to see if you need to be tested, please go to TestNebraska.com. We encourage you to consider being tested if you:

think you may have COVID-19 and/or have symptoms (fever, cough, shortness of breath, sore throat, loss of taste/smell) have been exposed to someone with COVID-19 work in a high-risk profession.

For questions or more information about COVID-19, please call Four Corners at 402-362-2621, email info@fourcorners.ne.gov or visit www.fourcorners.ne.gov.
Summer Hours
Concordia's summer hours—working (4) 10-hour days Monday through Thursday—will take effect June 1. If you are working from home and would prefer to continue working 8-hour days Monday through Friday, please work with your supervisor on a schedule that works for you and your department.
If you plan on working on Fridays, please be aware that your colleagues likely won't be, so try to avoid scheduling meetings on those days.
Returning from Vacations
On May 21, the State of Nebraska released updated Directed Health Measures which state only those travelers returning from foreign countries must self-quarantine for 14 days upon returning to Nebraska.
A Caring Community Invitation for Partners in Ministry
When you are on campus during the week and the weather is pleasant, you are invited to gather on the campus quad on Mondays, Tuesdays and Thursdays from 11 to 11:30 a.m., for a time called "11th Commandment at 11." Our Rev. Ryan Matthias typically invites us to obey his 11th Commandment on nice days by being outside as much as possible.
Please feel welcome to gather with your partners in ministry in the quad area at six-feet physical distances to enjoy our Christ-centered Concordia community. While not required, the Nebraska Department of Health and Human Services and Four Corners Health Department encourages us to wear masks in public settings. Feel welcome to bring a coffee, iced tea, water or pop with you. Please consider taking this opportunity to connect with one another, laugh, vent and encourage. You may even find some individuals telling bad jokes.
And remember, on Wednesdays at 11 a.m., Pastor Matthias continues to offer chapel via Facebook livestream. Tune in to relax with the Lord and be spiritually filled.
Next Update
Previous Update