Campus Reopening Phase: Employees Returning
Published by Seth Meranda 6 months ago on Thu, Jun 25, 2020 4:10 PM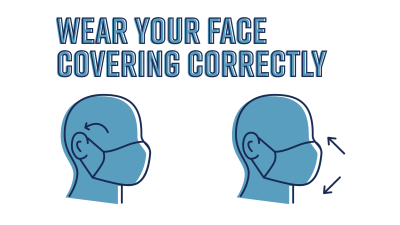 On Monday, July 6, the Seward campus will begin the transition and preparations for welcoming back our students starting on Aug. 4. In efforts to maintain the health and safety of the entire Concordia community, we will all need to take extra care in our daily lives that will help protect ourselves and our brothers and sisters in Christ.
Face Coverings
In order to protect others from being infected with COVID-19, the CDC, Nebraska DHHS, and Four Corners Local Health Department recommends wearing cloth face coverings in public settings where physical distancing measures are difficult to maintain. As a caring community, everyone is required to wear face coverings that cover your mouth and nose while on campus — including students, faculty, staff, guests and vendors — in all spaces when six feet of separation is not possible. In outside spaces, face coverings are required to be worn by every individual on campus when six feet of separation is not possible, such as walking to and from class. In spaces where six-feet physical distancing is possible, masks may be removed.
Reusable, washable face masks will be provided to Concordia partners in ministry and students when they return.
Those who cannot wear face coverings due to a diagnosed impairment should contact Disability Support Services at ada@cune.edu or Human Resources for accommodations.
Self-Screening Sheet
To ensure we keep ourselves and others as safe and healthy as possible, we will all need to add new tasks to our daily routines. One of the most important additions to our routines is this self-screening sheet. Before you arrive on campus each day, please read through this sheet and follow the action steps. This sheet is for your personal use and safety, you do not need to turn it in.
Physical Distancing
When you are in common or shared areas of campus, please maintain a physical distance of six feet from others whenever possible. Based on guidelines from the CDC, these distancing measures will help to mitigate the spread of illness. Signage is placed within all campus buildings to direct traffic flow and help you follow physical distancing.
Alternative Work Agreements
As partners in ministry, we understand that accommodations for working on campus may be necessary for individuals who are considered high risk or are caring for someone considered high risk. Alternative Work Agreements (AWAs) are available for employees to work with their supervisors should accommodations not be available for an on-campus work environment.
Starting next week, if you would like to explore alternative work arrangements, a form will be available on the portal that you can submit to the Human Resources office. They will review all accommodation requests and collaborate with you to develop a plan that works best for you, your supervisor and your team.
On-Campus Signage
In each of our buildings, you'll see signage that directs traffic flow, and also floor signage to help you follow physical distancing. Please pay special attention to this signage as it will help ensure proper distancing takes place across campus.
Cleaning and Disinfecting Protocols for all Campus Buildings
Buildings and grounds have implemented a more rigorous cleaning and disinfecting regimen for all areas on campus, especially high-touch and high-traffic areas, in accordance with CDC guidelines.

Next Update
Previous Update