August 28 Campus Update
Published by Concordia University, Nebraska 9 months ago on Fri, Aug 28, 2020 4:30 PM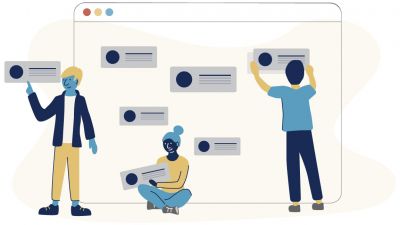 Presidential search update
Thank you again for taking the time to attend presentations from our two candidates – Rev. Dr. Lee Hagan and Dr. Bernard Bull. Now that we have received your feedback, the Board of Regents will determine the next steps in the process at their September meeting.
Student COVID-19 testing and tracing
If a student, faculty or staff member tests positive for COVID-19, contact tracing will be done and close contacts of the individual who tested positive will be alerted. This process is implemented to examine dates and symptoms of the person who tested positive and any people they may have come in contact with, where they were within six feet for 15 minutes or more, without wearing a face covering. Face coverings have been extremely helpful throughout this process.
The contact tracing will be done by the local health agencies and/or the University Health Center. The identification of the positive individual will not be identified unless medically necessary. There may be a rare situation during a health or safety emergency, however, in which Concordia may determine (in conjunction with health, law enforcement, or other such officials) that parents of students or eligible students are notified.
Athletics—Fan Attendance
Bulldog fans must self-screen before arriving to campus for games. While inside, fans are required to wear their face coverings at all times and keep physical distance while sitting in stands.
Concessions will be available, but we ask that you return to your seat to consume. No congregating along concourses.
Bulldog Stadium and Walz Arena will have identified entrances and exits to help direct traffic flow.
Bulldog Stadium: Home fans enter through south gate
Walz: Home fans (non-student) enter through north lobby doors. Students enter through south lobby doors.
For more information on Bulldog Athletics procedures, view our information for fans.
Enrollment update
As of Aug. 26, Concordia's undergraduate enrollment is 1,192 students, including 375 incoming students. Our graduate enrollment is 1,182 students, including 849 Concordia Portland students in the teach-out program.
Update on Commission on Racial and Ethnic Diversity
The Commission on Racial and Ethnic Diversity of Concordia University, Nebraska was organized by the interim president, provost and multicultural specialist. There were an outstanding number of responses from faculty, staff and alums that expressed interest. Because more partners in ministry volunteered than there were slots available on the Commission, we will have workgroups that will be able to serve as an extension of the Commission.
Commission Composition:
Vice President for Enrollment and Marketing – Gary McDaniel
Vice President for Student Affairs and Athletics – Gene Brooks
Member of the Undergraduate Council – Dr. Tim Huntington
Faculty Member from the Business College – Jon Moberly
Faculty Member from the Health and Human Sciences College – Dr. Kristen Nugent
Faculty Member from the Arts and Sciences College – Bryan Moore
Two Members of the Athletic Department – Ben Limback and Patrick Daberkow
Director of Counseling and Student Affairs – Kathleen von Kampen
Mental Health Consultant – Kim Boyce
Director of Alumni and University Relations – Jen Furr
8 Student Representatives
Member of the Theology Faculty – Rev. Dr. Paul Holtorf
Campus Pastor – Rev. Ryan Matthias
Multicultural Specialist – Von Thomas
The newly organized Commission met for its first time on Monday, Aug. 24. One of the first priorities as a Commission is to listen to Concordia's students. We want our students to feel and understand that this is their university. We are here to serve and to minister to them in all facets of life. We are able to do this academically, socially, athletically and spiritually. We have to seek to understand how they feel in order for us to meet their needs. As a Commission, we are committed to taking the necessary steps to enhance the work that is already being done by many faculty and staff here at Concordia University, Nebraska. With the help of our students and alums, it is our job to fulfill this mission by keeping our promises (Community, Inquiry, Purpose and Wisdom), meeting our goals and seeing our vision through.
More details about the Commission's mission and goals are available on our webpage which will be updated on a continuous basis.
Next Update
Previous Update