Doctor of Letters Degree
The Doctor of Letters degree shall be conferred upon individuals who have distinguished themselves through creative contributions to their field of endeavor.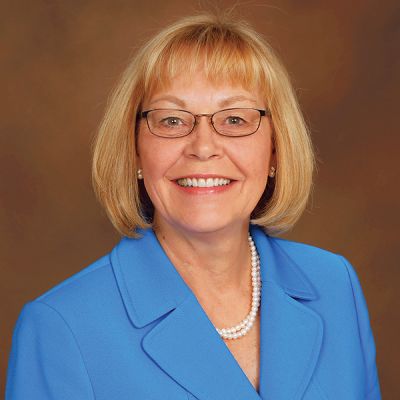 Ruth A. Henrichs
Omaha, Neb.
Ruth A. Henrichs received a Bachelor of Science in social welfare in 1972 and a Master of Social Work from the University of Nebraska Omaha in 1976. She served as a social worker at Archbishop Bergan Mercy Hospital in Omaha from 1972-1974 and held a graduate internship at Immanuel Mental Health Center in Omaha in 1975 before joining Lutheran Family Services Nebraska (LFS) as a therapist in 1976.
Henrichs served as a therapist for LFS Nebraska from 1976-1983, before serving as regional director 1983-1984 and then as president and CEO from 1984-2018. Selected recognitions from her long list include being named Outstanding Young Woman of America in 1984 and 1985; Nebraska Social Worker of the Year in 1986; Executive of the Year, Association of Lutheran Development Executives and Master Teacher Award, Midland Lutheran College, now Midland University, both in 1999; and the Seeds of Hope, Wheat Ridge Ministries, now We Raise Foundation, in 2004. In 2018, Nebraska Rep. Don Bacon read Henrichs' personal story of service into the Congressional Record on the floor of the United States House of Representatives.
During her tenure as president and CEO of LFS Nebraska, Henrichs demonstrated the ability to make difficult financial decisions while finding innovative ways for the organization to grow strategically. Also during her tenure at LFS, eight former LFS staff members have proceeded to become CEOs in the nonprofit sector.
Henrichs shares her time and talents by serving on numerous boards and committees, currently on the Business Ethics Alliance board of trustees and as a member of the Nebraska Synod ELCA Consultation Committee. She was previously a member of the Thrivent Member Network regional board and board chair of the ELCA Nebraska Lutheran Planned Giving Services, board chair of the Children and Family Coalition of Nebraska and the Nonprofit Association of the Midlands, among many other positions. She also served as a panel expert on first lady Michelle Obama's national conference call "Sharing Emerging Best Practices and Services for our Nation's Veterans."
Henrichs is the past chair of the board of directors of Lutheran Services in America, one of the largest networks of human service organizations in the United States. She also served as vice chair of Lutheran Immigration and Refugee Service in Baltimore, and on the executive committee of the Immanuel Health Systems board of directors in Omaha.
Henrichs and her husband, Richard, live in Omaha and have three adult sons, Joe Rexin, Dave Rexin and Jon Henrichs, and nine grandchildren.